Destin Troyce, aka TROYCETV, is a well-known American YouTube celebrity and comedian best known for his TROYCETV channel. TROYCETV has become well-known in the area for his forthright and honest take on pop culture commentary and gossip.
Early Childhood Development and Education
TROYCETV was born in Tampa, Florida, in the United States of America, on August 8, 1999, and reared in Miami. He will be twenty-one years old in the year 2020. He is a citizen of the United States of America. He was born under the sign of Leo and is of Haitian heritage. So far, he has managed to keep his personal life under wraps. He has kept his early life, parents, and educational background private. He may, however, have finished his high school education, based on his age.
Profession
On July 24, 2015, Troyce launched his YouTube channel, TROYCETV. He began his profession from that point on and had a lot of favorable feedback, which encouraged him to continue working. His perseverance and hard work in all of his YouTube videos have paid off handsomely. As a result, he has amassed thousands of subscribers, followers, likes, comments, and shares on his YouTube channel. He understands just how to attract people's attention and what popular subject he should talk about. He has gained fame as a result of all of these factors.
After starting his YouTube account on July 25, 2015, Troyce released his first video the following day. '1.when you take meat from the pot and get caught,' said the description on the video. His most popular video, which was released on September 25, 2019, has 1.6 million views. Why 106 & PARK Ended :The L!ES,Pregnancy Free's W/Jay z & Behind The Scenes Tea,' he labeled the video. 'THE REAL TEA ON Bloveslife & The WAY She Treats People..?' is his second most popular video. He uploaded the video in July 2019 and it has already received 1 million views. His third-most-viewed video, with 988k views, was released on December 12, 2017. Ar'mon And Trey OPEN UP is the title of the video.
Similarly, 'The ACE Family Are In BIG Legal Trouble NOW & Are Hiding,' and 'Domo EXPOSES Crissy For Not Wanting Her BABY & INSECURITIES,' each have over 900,000 views. On September 6, 2019, and October 20, 2018, they were published, respectively. He worked on a film on weight and health with @bloveslife2. He also worked with @badgirljanelle on a project. Troyce also has an Instagram account, troycetv, where he posts his videos and photos. On September 20, 2015, he made his first Instagram post.
Net wealth and awards
Troyce has not garnered any nominations or awards. He has earned the hearts of his fans by keeping them amused with all the latest rumors. For his 100k+ followers, he won the Silver Play Button from YouTube as a reward. He makes a lot of money from his YouTube videos and other social media accounts since he is a social media phenomenon. Furthermore, as of 2020, his YouTube channel, TROYCETV, is valued $117,000 USD.
Troyce hasn't revealed anything about his personal life yet. He's most likely single. There is also no information regarding his previous relationships, ex-girlfriends, or previous engagements. He is now concentrating on his work and devoting more time to improving his abilities.
Social Media and Body Measurements
Troyce is a black-haired man with black eyes. There are no more data about his height, weight, or physical measurements available. He is highly active on all of his social media sites and ensures that his supporters are kept informed. TROYCETV, his YouTube channel, has a whopping 477k followers. He has 69.4k Instagram followers under the handle @troycetv, and 14.4k Twitter followers under the handle @TROYCETV. He also has a Facebook profile with 1.4k likes and 1.8k followers, which he calls @IAMTROYCE. As a result, he has a sizable fan base that backs him up.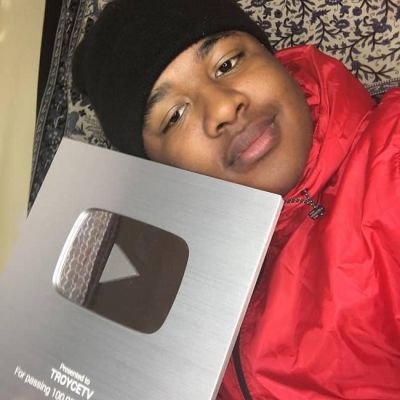 Quick Facts