Saffron Barker is a British social media influencer who formed the band Born2Blush with three other girls. Saffron Barker is also a YouTube sensation, with over 2.45 million subscribers to her self-titled channel.
Childhood and Early Years
Saffron Barker is a twenty-year-old woman. She was born in Brighton, England, on July 24, 2000, under the astrological sign of Cancer. Darren Baker is her father's name, and Wendy Baker is her mother's name.
She has an older brother named Casey and a younger brother named Jed, and she is the middle girl. Jordan, her adopted child, is also a member of her family. Jordan Comolli is a musician who specializes in electronic music.
Saffron is British, but she hasn't said much about her ethnicity. There is no detail about her educational background.
Occupational life
Saffron Barker is a British singer and YouTuber who is one of the country's most well-known social media celebrities. She formed the band Born2Blush with three other girls when she was three years old. Libby Whitehouse, Jazmine Tiley, and Georgia McNamara are the other members of the band. They started singing together in the early 2010s. They also published "24seven," an original song.
The band has also participated in a number of national singing contests in England. The band launched a YouTube channel in May 2014, where they posted a cover of Bruno Mars' "Uptown Funk." The band disbanded later that year.
Barker then launched her own YouTube channel on July 30, 2015. She uploads a wide range of lifestyle, fashion, and challenge videos to this website, including workout videos, boyfriend and girlfriend videos, q&as, makeup and beauty tips, clothing and American hauls, and more.
"ARRIVING IN FLORIDA!" is her first YouTube video on the channel. In August of 2015, she uploaded a video documenting her trip to Florida. Her success as a member of the Born2Blush band helped her gain a lot of attention at first. The first video has received over 239k views.
Since then, she has amassed a total of 364 million views and more than 2.45 million subscribers (As of July 2020). 'Types of Boyfriend,' which also featured her then-boyfriend Jake Mitchell, is one of her most famous videos, with 9.8 million views. "I switched DIETS with a 7 year old for 24 hours!!," "I only ate PINK food for 24 HOURS challenge!!!," and "I only ate RED food for 24 HOURS challenge!!!" are some of her other famous videos. She has gone from obscurity to global acclaim in only a few years.
Channel for vlogging
On October 27, 2015, she also launched her vlogging YouTube channel SaffronBarkerVlogs. This channel, which has 1.09 million subscribers, has also grown in popularity. Her vlogs are entertaining to watch. This outgoing adolescent is self-assured and intelligent. She is a long-distance best friend to her viewers, with whom she smiles, rejoices with her, and weeps with her, being present in her joys and sorrows.
"PROM DAY!!," for example, is a popular vlogging video with over a million views. "It's okay to cry now and then…" "I'm telling my family I'm going to Strictly Come Dancing…," she says. "AN UNKNOWN MAN HEAD DUNKED ME IN WATER!!!"
More…
She was one of 25 YouTubers who filmed "Christmas Without You," a charity Christmas single supporting the "Make-A-Wish Foundation," in late 2016. Grammy Award-winning songwriters 'Jackie Boys' wrote the song. She's also the host of a six-episode TalkTalk TV original series called 'In My Day,' in which she and other members of her family address various subjects from the perspectives of various generations.
She has also volunteered with a number of charities. She's also raised money for a charity called "Cancer Research UK." She's also a member of the 'Being Me' Campaign.
She is also involved on other social media sites such as Instagram, YouNow, Twitter, Snapchat, and others. Her unique approach to portraying social media handles has certainly attracted a sizable following on other social media platforms.
What is your net worth?
Saffron Barker is a well-known YouTuber and social media influencer who has certainly amassed a substantial amount of money as a result of her efforts. She has made appearances at a number of events. She has made about $625k dollars from her YouTube video. As a result, her net worth is projected to be around $1 million.
She also leads a safe, opulent lifestyle. Her information about other properties, such as cars and homes, is not accessible.
The state of her relationship
Saffron Barker is straight and in a loving relationship, according to her personal life. Tyler Dixon is the man she is actually dating. She's also shared photos of her and her partner with lovely captions. They seem to be committed to each other.
She has also had past relationships with other men. She dated Jake Mitchell, a fellow internet celebrity, from 2015 to 2016. She's also tagged him as her boyfriend in some YouTube videos.
There were reports about her hook-up with fellow YouTuber Joe Weller after her public break-up with Mitchell. She was also accused of dating Harvey, a London-based artist, but neither has made any public comments about the relationship so far, except for a few vague Twitter exchanges.
Controversies
Barker's most intimate information is available to the public since she is a social media celebrity. The cost of fame, as her maternal grandfather Peter Hewlett, Barker's maternal grandfather, said in the first episode of 'In My Day,' is privacy, and she seems to be paying it.
Similarly, back in late 2016, when she was dating Jake Mitchell, her then-boyfriend posted a Snapchat photo of himself sleeping in someone's bed. Different ideas exploded on the internet. Their supporter immediately deduced that it wasn't his or Barker's bed. She later discovered that he had cheated on her with Claudia Naya, a girl from their high school. Despite Mitchell's vehement denials and the support of his girlfriend, Eloise, things took a turn for the worse. Mitchell's dad, Rob, was even accused of using a fake Twitter account to bully Barker. Soon after, the couple split up.
She is now controversy-free and enjoying a safe, beautiful life with a positive social media presence with her fan base.
Dimensions of the body
Stunning and stunning Saffron Barker, who is 20 years old, has a charming personality. Her appealing appearance has drawn a large number of admirers. Her eyes are a brilliant blue color and she has a lovely smile. Her hair is blonde and she has a medium-length cut.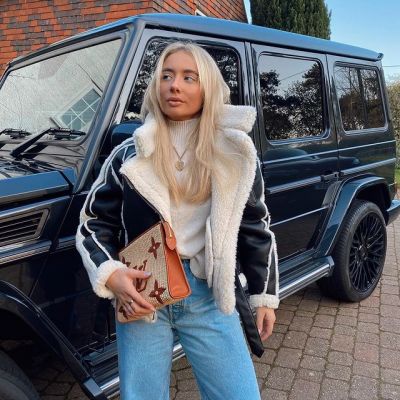 Similarly, if she is 5 feet 2 inches tall, as mentioned on Twitter, she has a good height. She mentioned her height on Twitter, saying "I'm 5'2" and "it's strange to think people who are 5ft are just 5 subways long." She is around 121 lbs (55 kg) in weight. There is no other body statics available.
Use of social media
Saffron Barker has accounts on Instagram, Twitter, Snapchat, YouTube, You Now, and other social media platforms. Under the username @saffronbarker, she has checked accounts of over 1.7 million followers on Instagram. Similarly, she has nearly 556.2K Instagram followers and over 57k Facebook fans.
She also has two YouTube channels. Her main channel has over 2.45 million viewers, while her SaffronBarkerVlogs channel has 1.09 million.
Quick Facts
| | |
| --- | --- |
| Full Name: | Saffron Barker |
| Born Date: | 24 Jul, 2000 |
| Age: | 20 years |
| Horoscope: | Leo |
| Lucky Number: | 6 |
| Lucky Stone: | Ruby |
| Lucky Color: | Gold |
| Best Match for Marriage: | Sagittarius, Gemini, Aries |
| Gender: | Female |
| Profession: | Youtuber, Singer |
| Country: | England |
| Height: | 5 feet 2 inches (1.57m) |
| Marital Status: | in-relation |
| Dating | Tyler Dixon |
| Net Worth | $1 million |
| Eye Color | Blue |
| Hair Color | Blonde |
| Birth Place | Brighton |
| Nationality | British |
| Father | Darren Barker |
| Mother | Wendy Barker |
| Siblings | (Three) Casey, Jed, and Jordan |
| Facebook | Saffron Barker Facebook |
| Twitter | Saffron Barker Twitter |
| Youtube | Saffron Barker Youtube |
| Instagram | Saffron Barker Instagram |