Rudy Gobert is a French basketball player who has represented both the Utah Jazz and the French national team. Rudy Gobert was the first NBA player to test positive for COVID-19, the Novel CoronaVirus that is causing the global pandemic. He was also chastised for his carelessness during the pandemic, which was evident at a press conference on March 9th.
Rudy Gobert is the first player in the NBA to test positive for COVID-19. What is his actual state of health?
Rudy Gobert is the first player in the NBA to be diagnosed with Corona Virus. On March 13, 2020, he announced his case in an Instagram message. He wrote that within 24 hours of receiving the diagnosis, he experienced a slew of emotions, the majority of which were terror, anxiety, and humiliation. Rudy also expressed regret for his carelessness and for putting others in danger during the global pandemic.
Soon after the news of Rudy's test became public, a short video of him touching all the microphones before leaving the conference room went viral. This press conference took place on March 9th. The public chastised him for making fun of the Corona Virus and dismissing the COVID 19 global pandemic. Rudy went on to say about the problem:
"I had no idea I was tainted at the time; I was reckless and make no excuses. And I hope that my story serves as a message to others, and that they take this seriously; I will do whatever I can to help using my experience to inform others and stop the virus from spreading."
He also said in the video posted on the NBA Twitter account, "I wish I would've taken this thing more seriously, and I hope everyone else will." He also urged people to stay safe and take all possible precautions to keep everyone safe during this period on his Instagram page. He said that he is receiving excellent treatment and that he will completely recover in no time.
Rudy later changed his condition on Twitter on March 23, 2020. He expressed himself as follows:
"Just to keep you updated; loss of smell and taste is certainly one of the symptoms; I haven't been able to smell anything for the past four days. Is anybody else having this problem?"
His most recent posts
It seems that he has been experiencing new symptoms that no one else has publicly shared. When he changed his status, he had already lost his sense of smell and taste for four days. A group of British doctors suggested on Friday that losing one's sense of smell may be a symptom of coronavirus infection, while Italian doctors confirmed similar findings. Prof. Claire Hopkins, president of the British Rhinological Society, wrote in an email to The New York Times:
"We want to make people aware that this is a symptom of illness, and that someone who loses their sense of smell should isolate themselves. It can help to slow the spread of disease and save lives."
Dr. Marco Metra is the head of the cardiology department at Brescia's main hospital, where the coronavirus has infected 700 of the 1,200 inpatients. He said, "
When you inquire about the patient's wife or husband, almost everybody who is hospitalized has the same story. "My wife has just lost her scent and taste, but she is otherwise fine," the patient says. But she's probably sick, and she's spreading a very mild strain.
Despite the fact that Rudy first announced the latest symptoms on March 23rd, he updated the public last week to say that he was doing much better. He said in a video posted to the NBA's Twitter feed:
To begin, I'd like to express my gratitude to all of the people who have been helpful and for all of the positive energy. It means a great deal to me. As for me, thanks to the healthcare professionals in Utah and Oklahoma City, as well as all of the wonderful people that surround me, I've been feeling a little better every day.
Rudy Gobert vowed to donate $500,000 to help people affected by the coronavirus in a statement released on Saturday. It also contains $400,000 to benefit coronavirus social care in Utah and Oklahoma City, as well as the Jazz's employee relief fund.
When the disease was first discovered,
Rudy plays center for the Utah Jazz, who were in Oklahoma City on Wednesday night to play the Oklahoma City Thunder. This was when the NBA learned that a Utah player had tested positive for the virus in a preliminary examination. They didn't name the person at the time, but the league quickly revealed that the regular season would be suspended due to the ongoing pandemic. Due to the increasing concerns about the coronavirus outbreak, the NBA season has been halted for at least 30 days.
Rudy Gobert of the Utah Jazz tested positive, according to Shams Charania of The Athletic and Stadium. Donovan Mitchell, a Jazz guard, announced he had tested positive for coronavirus a day later. Adrian Wojnarowski, an ESPN reporter, reported on SportsCenter that Gobert's teammates were very frustrated with him. According to sources, this has caused a divide between Gobert and Donovan. And the Utah Jazz are hoping that the break will help them repair fences between the two majors.
The anger stemmed from Rudy's dismissive attitude toward the situation prior to his diagnosis, referring to the incident in which he jokingly touched all of the microphones at the March 9th press conference. Rudy Gobert was also sloppy in the locker room, touching teammates and their possessions. As a result, there is a schism between Gobert and the rest of the team.
Some players' situations
The Oklahoma City Thunder players, on the other hand, were reportedly not screened for coronavirus. They were given permission to exit the house. The Jazz players, on the other hand, were quarantined inside the Chesapeake Energy Arena when they were tested for Coronavirus.
Teams that have played Utah in the last ten days have been advised to self-quarantine. The Cleveland Cavaliers, New York Knicks, Boston Celtics, Detroit Pistons, and Toronto Raptors have been the team's opponents since March 2.
Christian Wood, a big man for the Detroit Pistons, also tested positive recently, and the news came in on Sunday. In a game against the Jazz a week ago, he defended Rudy Gobert. Christian was also the first non-jazz musician to be infected with the coronavirus.
Childhood and Early Years
Rudy Gobert was born in Saint-Quentin, Aisne, in northern France, on June 26, 1992. His zodiac sign is Cancer, and he is 27 years old. Rudy's full name is Rudy Gobert-Bourgarel, as well. Corinne Gobert and Rudy Bourgarel are his parents. In the 1980s, his father was a professional basketball player from Guadeloupe who also played for the French national team. Rudy also went to Marist College in New York before starting his professional career.
Rudy began his basketball career in 2003 with the JSC St-Quentin club. Later, he became a member of the Saint-Quentin BB club. Rudy joined Cholet Basket's cadet categories training center in 2007, and he competed in the FIBA Europe Under-18 Championship in 2010. He was a member of the French under-18 national team and was their leading scorer and rebounder.
Professional Life and Career
Rudy began playing basketball at a young age and went on to play professionally at a young age. He has played for the Cholet Basket, Utah Jazz, and the French National Team. He's also known as The Stifle Tower, Gobzilla, and The French Rejection by fans.
Basket of Cholet
Rudy Gobert primarily played for the Cholet Basket junior team from 2009 to 2011. In 2010–11, he only played one game for the senior team. He had 6 points, 5 rebounds, 1 steal, and 1 block in this game. In 29 games for Cholet in 2011–12, he scored 4.2 points and 3.6 rebounds per game. Rudy scored 8.4 points and 5.4 rebounds per game in 27 games the following season, 2012–13.
The Utah Jazz are just getting started on their journey.
Since 2013, Rudy Gobert has been a member of the Utah Jazz. He joined the team after declaring for the NBA draft in 2013 and setting NBA Draft Combine records for wingspan (7 feet 812 inches) and standing reach (9 feet 7 inches). Because of his size, he was given the moniker "The Stifle Tower." A year later, Walter Tavares broke his record for wingspan.
Rudy was selected with the 27th overall selection by the Denver Nuggets on June 27, 2013. They later traded him to the Utah Jazz on draft night. Rudy joined the Jazz for the 2013 NBA Summer League after signing a rookie scale deal with them on July 6, 2013. Rudy set a season high with 10 points in a win over the Oklahoma City Thunder. On November 24, 2013, he was playing in his 12th game for the Jazz.
The NBA Development League then assigned him to the Bakersfield Jam on December 14th. The Utah Jazz, however, recalled him on December 21st and reassigned him on January 4th, 2014. Rudy was a part-time player for the Jazz in 2013–14, appearing in 45 of the 82 regular-season games.
Rudy Gobert has been a member of the Utah Jazz since then. They chose him, along with teammate Donovan Mitchell, as a Western Conference reserve for the 2020 NBA All-Star Game on January 30, 2020. Rudy's first All-Star selection came after it was revealed that his omissions from the previous two All-Star games were among the worst in NBA history.
Furthermore, a game between the Utah Jazz and the Oklahoma City Thunder was postponed just before tipoff on March 11th, 2020. It was completed shortly after Rudy was placed on the injured list due to illness. After visiting a local hospital for a screening, Rudy tested positive for the Severe Acute Respiratory Syndrome coronavirus 2 (SARS-CoV-2), also known as COVID-19. The NBA then decided to postpone the 2019–20 season indefinitely, with a minimum 30-day break.
Team National
At the 2011 FIBA Europe Under-20 Championship, Rudy Gobert took home the bronze medal. At the 2012 FIBA Europe Under-20 Championship, he also took silver. Later, he was named to the All-Tournament team alongside fellow countryman Léo Westermann in the 2012 edition.
In addition, head coach Vincent Collet requested Rudy Gobert's assistance in preparing the senior French national team for the 2012 Summer Olympics. Rudy scored 8 points in two friendly games. He was also a member of the 2014 FIBA World Cup bronze-medal winning team. He scored 4.1 points per game there.
Rudy then went on to help France win bronze at EuroBasket 2015, averaging 10.4 points, 8.1 assists, and 2.0 blocked shots over the course of the tournament. He also assisted the squad in earning All-European Championships Second Team honors from Eurobasket.com.
Gobert appeared in five games for France at the 2016 Olympic Games in Rio. He averaged 5.7 points, 7.2 rebounds, and 1.8 blocks per game. He was instrumental in France's bronze medal performance at the 2019 FIBA World Cup. He scored 10.1 points per game, grabbed 9.1 rebounds, had 1.8 assists, 0.6 steals, and 1.9 blocks.
Net Worth and Awards
Rudy has earned a slew of honors, names, and accolades during his time in the NBA, having played for a variety of teams. Here are a few examples:
NBA All-Star Game in 2020
NBA Defensive Player of the Year in 2018 and 2019.
Second Team All-NBA in 2017
All-NBA Third Team in 2019
NBA All-Defensive First Team in 2017, 2018, and 2019.
NBA Blocks Leader in 2017
Player of the Year in France for 2019
Rudy's earnings and net worth are estimated to be in the $20 million range. Furthermore, Rudy and the Utah Jazz agreed to a $102 million contract extension in November 2016.
Furthermore, Forbes announced on March 11, 2020, that Utah Jazz center Rudy Gobert is eligible for one of the biggest individual prizes in sports, the NBA "supermax" deal, after winning two Defensive Player of the Year awards and earning an All-NBA nod. According to ESPN's Bobby Marks, Rudy would earn $247.3 million over five seasons if he signed such a contract. That's a lot of money, particularly for a big man approaching his 33rd season when the contract expires.
Personal Experiences
Rudy Gobert is actually without a girlfriend. Up to now, there has been no information about the NBA star's romantic relationships. Rudy has been single for a long time, despite his popularity and attractiveness. If Rudy declares his interest in dating in the coming days, however, the girls will line up.
Rudy's Kids Foundation is a non-profit organization dedicated to helping children.
Rudy Gobert created Rudy's Kids in an attempt to defend, encourage, and inspire children to overcome obstacles in their lives and achieve success. Rudy Kids has been committed to giving back to core communities around the world through a number of outreach projects since 2017.
Furthermore, Rudy's Kids aspires to find, work with, and fund outstanding charities that have a direct effect on the lives of children and teenagers through their generous donations of time, talent, and dedication. Via a number of programs in education, recreation, community health, and community outreach, it hopes to raise support for these organizations.
Social Media and Body Measurements
Rudy Gobert is a very tall basketball player. He is 2.16 m tall and stands at 7 foot 1 inch. In addition, he weighs about 111 kilograms. His wingspan when playing games is 2.36 m (7'9′′). His shoe size is 20, but no information about his dress size or other body measurements is available. Furthermore, his eyes and hair are both blacks.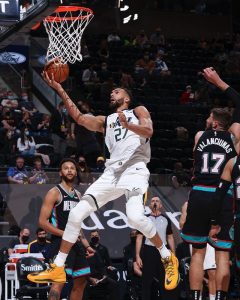 Rudy Gobert is a frequent user of social media. He started using Twitter in June 2012 and currently has 457.6k followers. Rudy already has 537k followers and 682 posts on his Instagram account @rudygobert27 as of March 2020. His most recent social media posts are about his experience after testing positive for COVID-19.
Quick Facts
| | |
| --- | --- |
| Full Name: | Rudy Gobert-Bourgarel |
| Born Date: | 26 Jun 1992 |
| Age: | 28 years |
| Horoscope: | Cancer |
| Lucky Number: | 8 |
| Lucky Stone: | Moonstone |
| Lucky Color: | Silver |
| Best Match for Marriage: | Taurus, Pisces, Scorpio |
| Gender: | Male |
| Profession: | NBA Basketball Player, French National Team member |
| Country: | France |
| Height: | 7 feet 1 inch (2.16m) |
| Marital Status: | single |
| Net Worth | $20 million |
| Eye Color | Black |
| Hair Color | Black |
| Birth Place | Saint-Quentin, Aisne |
| Nationality | French |
| Education | Marist College, Poughkeepsie, New York. |
| Father | Rudy Bourgarel |
| Mother | Corinne Gobert |
| Twitter | Rudy Gobert-Bourgarel Twitter |
| Instagram | Rudy Gobert-Bourgarel Instagram |
| Personal Web | Rudy Gobert-Bourgarel Personal Web |
| Wiki | Rudy Gobert-Bourgarel Wiki |