Rosanna Pansino is a well-known YouTuber, baker, actress, singer, and author. Rosanna Pansino was born on June 8, 1985.
Childhood and early life
Rosanna Pansino was born on June 8, 1985, in Seattle, Washington, United States of America. Her zodiac sign is Gemini, and she is 37 years old. Rosanna's ancestors are Italian, Croatian, German, and Irish. Molly, her younger sister, is also a member of her family. Her grandmother encouraged her to pursue a career as a baker.
Pansino confirmed her father's death on her social media accounts on December 17, 2019. He died of leukemia after a six-year battle with the disease. She later went to Los Angeles, California, after attending Pacific Lutheran University. Pansino battled with dyslexia at school.
Workplace Environment
Rosanna made her television debut as a competitor on Season 2 of VH1's Scream Queens, a reality show where the winner was a role in one of the Saw movies. She came in ninth place overall. She went on to seek a career as an actress, with tiny roles on shows like Parks and Recreation and CSI: Crime Scene Investigation.
Pansino started her YouTube channel after being inspired by a handful of her professional pals who had previously worked on the platform. Her YouTube channel, which she created herself, has over 12 million subscribers. She had also starred in the YouTube series Broken Quest as Violet.
She also starred in a high school rendition of the musical Grease as Sandy. Early in 2019, she collaborated with Sofie Dossi on a YouTube video. The first YouTube stars to be featured in print and television commercials to discuss their respective YouTube accounts were Rosanna, Michelle Phan, and Bethany Mota.
Pansino decided to develop the Nerdy Nummies series after never seeing a baking show on television or the Internet. As a result, 'Nerdy Nummies' became an instant smash, quickly becoming one of YouTube's most reputable and popular baking shows. Pansino gained a lot of credibility and fame as a result of this. In addition, the show has received four Streamy Award nominations.
More on her professional life
She appeared in the music video for Darwin ft Silento's "Dessert" in 2015. Rosanna has a recurrent voice role on the TV show Emo Dad, and she also guest-starred as herself on the Disney Channel comedy Bizaardvark in 2016. She also starred as The Jet Setter in the third season of YouTube Red's Escape the Night in 2018 and as The Socialite in the fourth season in 2019. The third and fourth season casts were nominated for Streamy Awards for best ensemble, although they did not win any.
Pansino also made her professional debut as a musician in 2015, when she released her first track, "Perfect Together." Kurt Hugo Schneider produced the song, which was first released on iTunes. On her YouTube channel, the song became extremely famous. She went on to participate in additional music endeavors after that.
Pansino wrote and published 'The Nerdy Nummies Cookbook' in 2015, which was launched the following year. The book features recipes that have previously appeared on Nerdy Nummies, as well as dishes that have been remastered. Furthermore, a section of the book contains new recipes that have never been shown on the show. The book was a New York Times bestseller, and BookRiot named it one of the "50 Must-Read Books by YouTubers."
Pansino also launched a new cookbook in 2018 called Baking All Year Round, which was based on the same concept as her previous one. Similarly, in August 2017, she debuted a baking line with Wilton, a kitchen firm. She appeared as a guest judge on Netflix's original competition baking show "Nailed It!" in 2019.
Personal Experiences
In terms of her personal life, she is currently married to Mike Lamond. In 2012, they started dating. He's a former esports commentator who now co-hosts Nerdy Nummies with Pansino. "OUR LOVE STORY!" Pansino says later in his 2019 Valentine's Day video. Rosanna stated, "Valentine's Day Mukbang w/ My Boyfriend!" They have been together for six years and have worked together for nine years.
Similarly, the YouTuber has not been embroiled in any speculations or controversies yet. As a result, she maintains a positive personal and professional profile.
Body Dimensions
Rosanna is a stunning woman with a great body shape. With a height of 4 feet 10 inches and a weight of roughly 50 kg, she appears to be fairly petite. Her breast, waist, and hip measurements are 32-24-34 inches. In addition, she has brown eyes and blonde hair. Her smile is bright and lively. As a result, she has a fantastic personality and a distinct flair.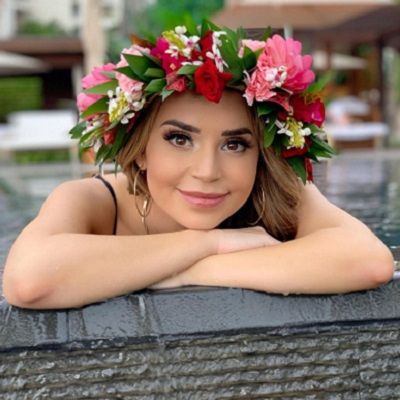 Net Worth and Social Media
Rosanna is well-known on social media networks. Her Instagram account, '@rosannapansino,' has over 4.5 million followers. Rosanna Pansino's Twitter account has a following of around 936.5K people. Her official Facebook page, meanwhile, has over 763K followers. She's also on TikTok, where she has over 540.7K followers and a total of 2.2 million. Her YouTube channel, which she created herself, now has over 12.2 million subscribers.
Without a doubt, this YouTube star would make a lot of money from her job. Her net worth, on the other hand, is reported to be around $9 million as of 2023. She has amassed most of her income through her YouTube business as well as her acting endeavors.
Quick Facts