Plácido Domingo is a musician, conductor, and opera administrator from Spain. Plácido Domingo is known for his sonorous, strong tenor voice, as well as his physical stature, good looks, and dramatic abilities, which helped him become one of the most influential musicians of his generation.
Plácido Domingo, the opera singer, tested positive for COVID-19?
Placido Domingo, the troubled opera singer, tested positive for COVID-19. He, like other celebrities, has been infected with a lethal virus that continues to spread across the world. On March 22 at 9:02 p.m., he revealed his positive test in a Facebook status update. Similarly, he believes it is his moral obligation to inform all of his fan followers about his positive COVID19 test. In addition, he and his family are all in self-isolation for as long as it is medically appropriate, he wrote.
He, as well as his family members, are currently in good health. He went on to say that he wanted to see a doctor after experiencing coughing and a fever. He, too, urges all to exercise extreme caution and to adhere to the basic rules of handwashing on a regular basis. He has also promised to keep at least a 6-foot distance from others and take all necessary precautions to prevent the virus from spreading.
He, like other celebrities, has requested that everyone stay at home and fight viruses together. He is concerned about putting an end to the ongoing global crisis and looks forward to returning to his usual everyday routine as soon as possible. He has also asked that we obey the local government's rules and regulations in order to remain safe and protect not just ourselves, but the whole community.
He received several well wishes for a speedy recovery after his Facebook update, which strengthened him and prompted him to post another status thanking everyone for their well wishes. He wrote that he is thankful and moved by the outpouring of messages he has got. With all my heart, he expresses his gratitude to everyone. "Take care of your wellbeing, stay clean, and #Stay Home," he also wrote. I wish him a speedy recovery and a long and stable life.
Childhood and Early Years
Plácido Domingo is a 79-year-old musician. He was born on January 21, 1941, in Madrid's Retiro neighborhood. Placido Domingo Sr. is his father's name, and Pepita Embil Domingo is his mother's name. Similarly, before his voice was injured while singing with a cold, his father played the violin and sang baritone roles in zarzuela. Similarly, his mother was a singer who made her debut at the Teatro Liceo in Barcelona, Spain, which is Spain's most popular opera house.
His parents joined a zarzuela company in 1946 and eventually moved to Mexico. Attracted to the country, he and his family decided to stay and start their own business in Mexico City. His parents knew he would be a singer when he was five years old because of his ability to hum complex songs. Maria José Domingo de Fernandez is his sister.
He started studying the piano privately after the family relocated to Mexico City, and later at the National Conservatory. He also pursued a degree in directing. He went to Instituto Mexico for high school and played soccer. In addition, he tried his hand at bullfighting.
He married a fellow piano student when he was sixteen years old. In addition, he has a son who was born this year. However, the pair split up not long after.
Occupational life
Plácido Domingo is a Spanish opera singer, conductor, and arts administrator in his personal life. He began singing baritone roles with his parents' zarzuela company in 1957. He included production of My Fair Lady in his early career, which he performed 185 times without missing a beat. He auditioned for the National Opera (Mexico) as a baritone in 1959.
He was, however, asked to sing something in the tonal range. He was also chosen as a tenor comprimario (secondary role singer) and a coach for additional singers. To augment his income, he played piano for a ballet company and appeared on a Mexican television show, where he played the piano to supplement servings of zarzuelas, operas, and musical comedies.
His number of opera appearances grew slowly, and he made his first appearance on American with the Dallas Civic Orchestra in November 1961. He and his wife signed a six-month contract with the Hebrew National Opera in Tel Aviv, Israel, in late 1962. His firm remained in Tel Aviv for more than two years.
International acclaim
Along with his Three Tenors appearances with Luciano Pavarotti (1935–) and Jose Carreras (1946–), he was a major success in the 1990s. In 1994, 1.3 billion people watched his concert on television in Los Angeles, California, and he sold over ten million CDs and videos. Similarly, he demonstrated his artistic directorship at the Washington Opera by launching the Three Tenors World Tour in 1996, which took him to four continents and lasted until 1997.
In 1998, he accepted the role of artistic director of the Los Angeles Opera, which he assumed in the year 2000. In addition, he marked his eighteenth opening night performance at New York City's Metropolitan Opera House in 1999. In December 2000, President Bill Clinton presented him with the Kennedy Center Honor for Lifetime Achievement. This earned him recognition for his efforts to expand the opera audience and assist those who are less fortunate around the world.
Various
He's also starred in three feature opera films: Carmen, La Traviata, and Otello. In the animated film The Book of Life, he also voiced Monte in Skeleton Jorge and Beverly Hills Chihuahua in Beverly Hills Chihuahua. He's also made cameo appearances on Sesame Street and The Simpsons as himself.
With the Metropolitan Opera, Los Angeles Opera, Chicago Symphony, Vienna Philharmonic, Covent Garden, Vienna State Opera, London Symphony, Los Angeles Philharmonic, Orchestre Symphonique de Montréal, National Symphony (Washington), and Berlin Philharmonic, he has seen over 500 opera performances and musical concerts. In 2018, he made his Bayreuth Festival debut, directing performances of Die Walküre.
Prizes
Plácido Domingo has earned several awards during his illustrious sixty-one-year career as a musician. Until now, he has recorded over 100 complete operas, albums of arias and duets, and crossover discs. He's so well-known that he's won 12 Grammy Awards, including three Latin Grammys. He has produced over 50 music videos for which he has received two Emmy Awards.
What is your net worth?
Plácido Domingo is a Spanish singer and conductor who earns a lot of money. Through his hard work, he has amassed a substantial amount of money. His net worth is projected to be around $300 million. He has also withheld details about his assesses, apartments, vehicles, and other properties. He does, however, own a number of opera houses.
Private life
Plácido Domingo is a married man, according to his social media accounts. And the couple has been together for 50 years. He has also married twice in his life. During his high school years, he married his first wife Ana Maria Guerra Cue at the age of 16. Jose, his son, was born after a brief marriage. His first marriage, however, did not last long, and the couple divorced within a year.
He married his second wife, Marta Ornelas, on August 1, 1962, when he was 21 years old. Marta, his wife, was a soprano whom Domingo met at the music school. They were also given the task of performing as a couple. Plácido Domingo Jr. and Alvaro Maurizio are their two sons.
Sexual assault allegations
He has been involved in several instances of controversy over the course of his artistic career. Many women accused him of sexual assault in August of this year. Eight singers and a dancer allege that he sexually abused them for three decades, beginning in the late 1980s. This happened in places like opera houses, where the musicians were in high-ranking roles. Women were also the first to express their dissatisfaction with his sexual movements.
He did, however, issue a statement in which he said, "The allegations from these unidentified people dating back as many as 30 years are genuinely disturbing, and as seen, incorrect." "I understand that the rules and criteria by which we are—and should be—measured today are very different than they were in the past," he said. I consider myself fortunate to have had a more than 50-year career in opera and will continue to keep myself to the highest standards."
He ended his association with the Metropolitan Opera in September 2019 after multiple women accused him of sexual harassment. Similarly, he stepped down as general director of the Los Angeles Opera in October 2019 and was excluded from all upcoming performances with the company.
Dimensions of the body
Plácido Domingo, a 79-year-old Spanish actor, stands at a decent height of 6 feet 3 inches (188 cm). He has a balanced body weight of around 84 kilograms (Weight 185 lb). His hair is also gray, and he has a pair of dark brown eyes. Furthermore, there is no detail about his physical characteristics, such as shoe size, dress size, and so on.
Use of social media
Plácido Domingo is also active on social media, using websites such as Facebook, Twitter, and Instagram. On his social media accounts, he has a large number of fans. His Instagram handle is @placido domingo, and he has over 225k followers. Similarly, he has amassed a fan base of over 89.6k followers on Twitter. On Facebook, he has a fan base of about 1.12 million people.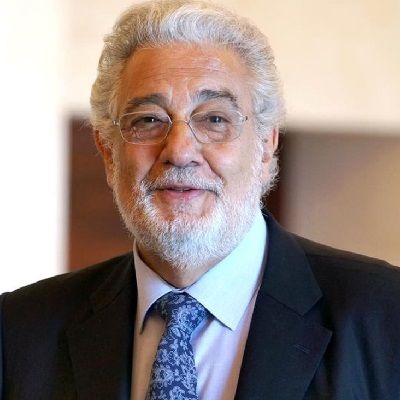 Quick Facts
| | |
| --- | --- |
| Full Name: | Plácido Domingo |
| Born Date: | 21 Jan, 1941 |
| Age: | 80 years |
| Horoscope: | Aquarius |
| Lucky Number: | 10 |
| Lucky Stone: | Amethyst |
| Lucky Color: | Turquoise |
| Best Match for Marriage: | Aquarius, Gemini, Sagittarius |
| Gender: | Male |
| Profession: | Musician |
| Country: | Spain |
| Height: | 6 feet 3 inches (1.91m) |
| Marital Status: | married |
| Married Date: | August 1, 1962 |
| Wife | Marta Domingo |
| Net Worth | $300 million |
| Eye Color | Drak Brown |
| Hair Color | Gray |
| Birth Place | Madrid |
| Nationality | Spanish |
| Education | National Conservatory of Music |
| Father | Plácido Domingo Ferrer |
| Mother | Pepita Embil |
| Siblings | (One) Maria José Domingo de Fernandez |
| Kids | (Three)Plácido Domingo Jr., José Plácido Domingo Guerra, and Alvaro Maurizio Domingo |
| Facebook | Plácido Domingo Facebook |
| Twitter | Plácido Domingo Twitter |
| Instagram | Plácido Domingo Instagram |
| Personal Web | Plácido Domingo Personal Web |
| IMDB | Plácido Domingo IMDB |
| Wiki | Plácido Domingo Wiki |