Niall Horan is a well-known Irish singer and guitarist who rose to prominence as a member of the influential boy band "One Direction." Niall Horan has always loved music and has played the guitar since he was a child.
Is he in a relationship right now?
Niall Horan and Hailee Steinfeld began dating in 2017 when they both collaborated on the Jingle Ball Tour. A few months later, at a Backstreet Boys concert, the two were seen getting together. Following that, it appeared as though the two were still together, traveling around the world to see and help each other.
Photos of the two sharing a steamy kiss appeared on the Daily Mail's website in August 2018. Their relationship was considered to be highly private between the two. They avoided discussing the dating rumors in interviews and did not write anything about each other on social media.
When asked about it by Us Weekly, Steinfeld said, "There are limits to a person's life and personal life," but she didn't confirm or deny her relationship with Horan. Horan and Steinfeld were often seen together. They were also seen kissing in Los Angeles at one stage, which onlookers interpreted as proof that they were still together.
Horan and Hailee, on the other hand, appeared to have broken up by December 2018. After being open about their relationship, neither party confirmed why they broke up. "Niall finished his tour and had more free time, but Hailee's work schedule really ramped up, so they didn't have time for a relationship," a source supposedly told Us Weekly. They still have a great deal of affection for one another." Horan's latest album, "Put a Little Love on Me," has been rumored to be about his breakup with Steinfeld.
Who has Niall Horan dated in the past?
Niall Horan was related to a number of people prior to Steinfeld, but he remained tight-lipped about those relationships as well. Horan was rumored to have had an on-again, off-again relationship with Hungarian model Barbara Palvin in 2014, but according to a source, they "fizzled out" because "Niall and Barbara are now working in various parts of the world."
A picture of Niall and Melissa kissing was leaked by a 1D fan in 2015, and it was the first time they were seen together. Melissa was a student at the time, and she managed to keep in touch with Niall by keeping him company while he was on tour for a few months. Melissa paid a visit to Niall in London after the 2015 tour ended, and according to the Mirror, she was a "hit with all of his peers." They split up in June of the following year.
Selena Gomez is a singer and actress from the United States.
Meanwhile, when Niall and Selena were seen kissing at Jenna Dewan's birthday party in December 2015, the rumors began to swirl once more. Furthermore, according to a report in Us Weekly, the two "seemed really similar and like they were together." They walked out together, and she took his arm and held on to it."
Selena flew out to cheer Niall on the X Factor finale show a few weeks later. Selena dismissed any reports of the two dating in an interview with Entertainment Tonight, but she did say that she "loves him" and "always has."
Ellie Goulding is a British singer-songwriter.
Niall and Ellie were never forthcoming about their relationship, but a song released in 2014 pretty much confirmed it. Ed Sheeran's song "Don't" is thought to be about Niall and Ellie's affair when Ellie was dating Ed. That's a lot of dirty laundries to air out.
Ellie told Seventeen a few years after the two broke up that she and Niall are "still friends." She went on to say that they "went on a few dates," which she described as "very enjoyable." He's a very lovely young man." Ellie continued to gush about him, claiming that he has a great sense of humor and is extremely compassionate.
What's the state of his current relationship?
Furthermore, following his split with Hailee, Niall Horan does not seem to have found another serious relationship. As a well-known figure, there has been no shortage of dating rumors circulating about him. There were also reports that he and Goulding had rekindled their relationship.
Back in October, several fans believed that Horan was dating Selena Gomez. Despite this, none of these relationships developed into something substantial.
Horan confirmed in an interview earlier this month that he does not have a girlfriend and is "very much single." Niall Horan is a single man at the moment. The 26-year-old still seems to be solely focused on promoting his latest song, "Put a Little Love on Me," as well as his forthcoming album, due out in 2020.
Childhood and early life
Niall Horan was born on September 13, 1993, in Mullingar, Ireland, and is now 26 years old. Niall James Horan was his birth name. His ethnicity is Irish, and his zodiac sign is Virgo. Bobby Horan is his father's name, and Maura Gallagher is his mother's name. He also has an older brother, Greg Horan, and a nephew, Theo Horan.
Education and Childhood
When Niall was about five years old, his parents divorced. His mother then remarried. Before settling in with their dad, Niall and Greg bounced back and forth between their parents' two households.
He enrolled at St.Kenny National School, where he sang in the school choir and performed in school plays. Niall also went to Coláiste Mhuire for high school. He played at the Mullingar Arts Centre and The Academy in Dublin as a teenager. Apart from music, he enjoys sports and is a die-hard supporter of Cricket, Football, and Tennis.
More details about himself
Niall Horan revealed in an interview that he was inspired by artists such as Michael Bublé, Frank Sinatra, and Jon Bon Jovi. He insisted that since they had a common life story, he could relate to Michael Bublé's journey.
In 2016, Niall teamed up with ace golfer Justin Rose for a good cause. They came together for the 'Horan and Rose Gala' in order to support cancer-stricken children and teenagers throughout the United Kingdom.
Niall Horan also took part in a soccer match in 2016 that was organized by UNICEF to raise money for charity. He was a member of a team that included celebrities including actor and activist Michael Sheen, singer Nicky Byrne, and chef Gordon Ramsay. José Mourinho aided Niall Horan after he was seriously injured during a soccer match in 2010. Niall was summoned by the latter to join the team's physiotherapy sessions.
Professional Life and Career
Niall Horan rose to fame as a member of One Direction in the early 2010s. The five-piece boy band rapidly became an international sensation after releasing their first single.
Taking part in 'The X Factor'
Horan auditioned for the tv talent show "The X Factor" in 2010. Niall went through several rounds of preliminary auditions before performing in front of the judges in Dublin, including Simon Cowell and guest judge Katy Perry.
He was also admitted into the official competition after singing a cover of Ne-"So Yo's Sick." He was one of the few contestants chosen for the 'X Factor Bootcamp' to hone their skills that season. Nicole Scherzinger, one of the reality show's guest judges, proposed that Niall Horan form a band with four other contestants.
Despite the fact that Horan was eliminated as a solo contestant after the semifinals, the judges decided to put him together with Harry Styles, Liam Payne, Zayn Malik, and Louis Tomlinson to form the boy band "One Direction."
As a member of One Direction, take a journey.
Despite the fact that 'One Direction' did not make it to the final round of 'The X Factor,' the band was instantly signed to Cowell's Syco label and released its first album, Up All Night, which was a best seller in the UK in 2011 and the US in 2012.
The band began their journey by covering famous songs such as Kelly Clarkson's "My Life Will Suck Without You" and Bonnie Tyler's composition "Total Eclipse Of The Heart." The band played at a number of venues together, and with the aid of 'The X Factor' judge Simon Cowell, they were able to secure a two-million-pound deal with the record label 'Syco.'
Soon after, the band toured the United Kingdom, performing in front of large crowds. However, it is estimated that about 500,000 people attended 'One Direction's' numerous concerts.
Soon after, the band toured the United Kingdom, performing in front of large crowds. However, it is estimated that about 500,000 people attended 'One Direction's' numerous concerts.
The band's first album, titled "Up All Night," was released in 2011 and went on to become a worldwide hit. Horan and his band had a lot of success, with albums like Take Me Home (2012), Midnight Memories (2013), and Four (2014) debuting at the top of the Billboard 200.
One Direction survived Malik's departure in March 2015, but the demands of a constant schedule had taken their toll on all members of the band by that time. Horan, Payne, Styles, and Tomlinson went their separate ways for an indefinite break shortly after the release of Made in the A.M. in November 2015.
Solo Instrumental Music
In 2016, Niall inked a contract with the label "Capitol Records" for his independent project. In September 2016, he released his single, "This Town," which went on to become a chartbuster. On the 'UK Singles List' and the 'Billboard Hot 100,' it was ranked 9th and 20th, respectively.
After that, he released two more songs, "Slow Hands" and "Too Much to Ask," before releasing his chart-topping album Flicker in October 2017. Horan released the singles "Nice to Meet Ya" and "Put a Little Love on Me" in the latter stages of 2019 ahead of the planned release of his second solo album, after spending much of 2018 on the road. In March 2020, he also released his second solo studio album, Heartbreak Weather.
Nominations and Awards
For their albums Up All Night and Take Me Home, his boy band, 'One Direction,' has won several Kids' Choice Awards. In 2012, One Direction received a BRIT Award for their song "What Makes You Beautiful." In 2014, they have won eight Teen Choice Awards. His single, 'This Town,' is without a doubt his crowning achievement.
Other аwаrds won by the group include аmb wаrd, Rаdо 1 ееn wаrd, llbоаrd uс wаrd, араn Gоld Dс wаrd, V wаrd, and Wоrld uс wаrd. In early 2017, he won the award for "Favorite Breakout Artist" at the "People's Choice Awards" ceremony.
Body Dimensions
Niall is a guy with a great personality. He has kept his body in shape and is in good health. He stands 5 feet 8 inches tall and weighs about 75 kilograms. Furthermore, Niall is an 8-size shoe wearer (US). Niall is a young man with blonde hair and blue eyes. His chest, waist, and hip measurements aren't given.
Net Worth and Social Media
Niall is participating on a number of social media platforms. On his official Instagram site, he has 23 million followers. About 39.5 million people have followed him on Twitter. He is also involved on Facebook, where he has amassed a following of over 9.47 million people. On July 26, 2016, he launched his self-titled YouTube channel, which now has over 3.3 million subscribers. He can also be found on TikTok under the username '@niallhoran93,' where he has more than 132.8K followers and a total of 1.4 million.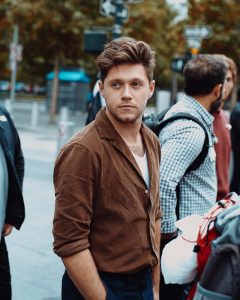 Niall Horan, who is young and talented, makes a living as a musician. Contracts, album sales, gigs, tours, and endorsements are all ways for him to make money. He does, however, undoubtedly amass a large sum of money as a result of his career. His net worth is estimated to be around $70 million.
Quick Facts
| | |
| --- | --- |
| Full Name: | Niall Horan |
| Born Date: | 13 Sep 1993 |
| Age: | 27 years |
| Horoscope: | Virgo |
| Lucky Number: | 8 |
| Lucky Stone: | Sapphire |
| Lucky Color: | Green |
| Best Match for Marriage: | Taurus, Capricorn |
| Gender: | Male |
| Profession: | Singer, Songwriter, Social Media Personality |
| Country: | Ireland |
| Saying: | Fans always tell me I'm beautiful, but no one will ever be as beautiful as them. I'd rather be a kid and play with paper planes than be a man and play with a woman's heart. |
| Height: | 5 feet 8 inches (1.73m) |
| Marital Status: | single |
| Break Up | Ellie Goulding |
| Net Worth | $70 million |
| Eye Color | Sea Blue |
| Hair Color | Blonde |
| Birth Place | Mullingar |
| Nationality | Irish |
| Education | Coláiste Mhuire |
| Father | Bobby Horan |
| Mother | Maura Gallagher |
| Siblings | one (brother: Greg Horan) |
| Facebook | Niall Horan Facebook |
| Twitter | Niall Horan Twitter |
| Youtube | Niall Horan Youtube |
| Instagram | Niall Horan Instagram |
| Personal Web | Niall Horan Personal Web |