Milan Knol is a social media celebrity from the Netherlands. Milan Knol, who has two YouTube accounts, is mainly a content developer. His mother and brother are also YouTube stars with their own channels. He may also be found on other social media sites such as Twitter, Facebook, and Instagram.
Early Years
Milan Knol is a 29-year-old actor who was born on September 13, 1991. He is a Dutch national since he was born in the Netherlands. Virgo is also his zodiac sign. Milan has two younger brothers, Enzo and Sjen, according to his family. Similarly, his mother's name is Irma, and she sometimes appears on his YouTube channel. At the age of 18, he dropped out of school to pursue a career as a full-time YouTuber. Milan then moved in with David Harms, a coworker.
Professional Life, Career, and Net Worth
Milan Knol is a social media personality for a living. He is well known for his parodies on the channel "DitisMilan," which he runs on YouTube. "IK WIL FIETSEN," which has over 5.8 million views on his YouTube account, is one of his most popular videos. Milan's YouTube channel, "DitisMilan," has more than 448,000 subscribers. Milan prefers to use his native Dutch language for his social media postings rather than English.
In February of 2013, he launched a second channel named "DagelijksHaaDee," which is a gaming channel. This channel has almost 1.39 million members and is currently known as "Milan Knol."Milan launched his first YouTube channel, "DitisMilan," on February 19, 2010, with over 56.7 million views to date. Then, on February 7, 2013, he launched his second channel, which has had over 805 million views to date. Milan Knol's original YouTube account included comedy and parody videos, among other things.
Milan Knol assisted his younger brother Enzo Knol in starting his own YouTube channel, which focused on vlogs and fitness, in the year 2013. With over 30 million monthly views, his brother became the most popular Dutch YouTube vlogger thanks to this channel.
More information
From 2016 to 2019, Milan competed in the Legends of Gaming NL. Endemol is a media firm that produces an online gaming program. Milan Knol finished seventh in Season 1, sixth in Seasons 2 and 3, and seventh in Season 4. With his self-titled channel, he earned a VEED Award for 'Best Gaming YouTuber' in 2018.
Milan declared on December 6, 2018, that he will rename his channel "DagelijksHaaDee" to "Milan Knol." Then, on December 21, 2019, he appearedon StukTV's "De Kluis," in which he, together with Don Plevier and JayJay Boske, beat Team Stuk with 36 gold bars.Milan Knol also took part in the annual YOUTUBERSxTOVERLAND event at Toverland Theme Park. This event was canceled in 2020 owing to the worldwide epidemic of COVID-19. Moving ahead, Milan is estimated to have a net worth of $749,000 USD as of September 2020.
Relationship Status
Milan Knol is most likely single right now. He hasn't posted anything on social media that would hint to his current relationships or escapades. Nonetheless, Milan had a long-term relationship with Jill "Crocojill" van Dooren. However, on July 25, 2017, the then-lovers announced their separation.
Body Dimensions
Unfortunately, there is no information on Milan Knol's physical measurements. Milan's height, weight, chest-waist-hip measurements, biceps, dress size, shoe size, and other details are currently unknown. He, too, has blonde hair and blue eyes.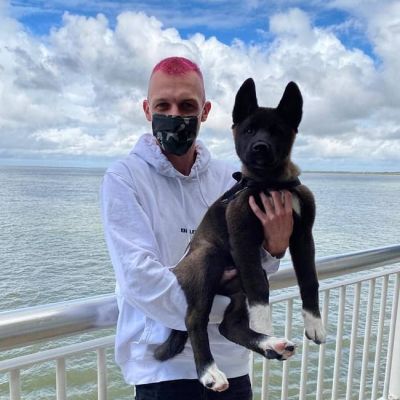 Social Media
Milan Knol's social media presence is impressive: he started his @DagelijksHaaDee Twitter account in February 2011 and now has over 165.7K followers. Similarly, he maintains another Twitter account with the handle @MilanKnol. Since its inception in March 2009, this account has amassed approximately 283.7K followers.
Milan is also known on Instagram as @milanknol. At the time of writing this biography, his Instagram account had 599 post shares and over 1 million followers (September 2020). Milan, like many other cities, has an official Facebook page. He started it on August 31, 2011, and over 3.6k people have followed his trip thus far.
On February 19, 2010, Milan Knol launched his first Youtube channel, "DitisMilan," which has garnered over 56.7 million views and 448k subscribers. Similarly, on February 7, 2013, he launched his second channel, which has amassed over 805 million views and 1.39 million members. For further information, we may reach out to him at [email protected]
Quick Facts