Masoumeh Ebtekar currently serves as Iran's Vice President for Women and Family Affairs. On August 9, 2017, Masoumeh Ebtekar was appointed. She became a victim of the ongoing global COVID-19 pandemic caused by the coronavirus.
COVID-19 was detected in Iran's Most Powerful Woman!
Coronavirus is spreading rapidly in Iran, and it has reached the highest levels of the government. Her symptoms were minor, and she was not hospitalized. Masoumeh Ebtekar's coronavirus diagnosis came just two days after the man in charge of the country's response to the outbreak also tested positive.
The news of Ebtekar's illness came just one day after she attended a Cabinet meeting where she was in close proximity to regime officials, which was particularly concerning for Iran's leadership. Khamenei, who is 80 years old, was also present. Because he and other Iranian leaders are elderly, they are more likely to succumb to the disease, even though there is no evidence that Khamenei is ill.
Mohammad Mirmohammadi, a member of the Supreme Leader Ali Khamenei's top council, died of Covid-19, a coronavirus-related disease, on Monday, March 2, 2020. The politician's death came after the illness claimed the lives of two other Iranian leaders: a former ambassador and a newly elected member of Parliament.
What is the current state of affairs in Iran?
According to reports, about 8% of Iran's Parliament has tested positive for the virus, with a total of about seven top officials sickened. Iraj Harirchi, the regime's coronavirus task force chief, and Iranian Vice President Masoumeh Ebtekar are among them. Iraj Harirchi looked sweaty and uneasy during a press conference about the virus.
Furthermore, the Iranian government is clearly in disarray. It is so despite the fact that the country has nearly 1,000 recorded coronavirus cases. It's so bad that Foreign Minister Javad Zarif has issued a call for help on Twitter, requesting medical equipment to help treat the country's outbreak.
Three European countries provided around 5 million euros in aid on Monday, but it's unclear if that would make a significant difference at this stage. The US has also provided assistance, despite the fact that its sanctions against the nation remain in place.
The virus's ability to propagate to the highest levels of Iran's government demonstrates the country's astounding failure to contain the outbreak thus far. Suzanne Maloney, an Iran expert at the Brookings Institution, stated:
"It exemplifies the revolutionary state's intensely ideological and often incompetent governance strategy. What's even more perplexing is that Iran possesses vast research capabilities as well as a highly respected public health system. As a result, this is solely a leadership failure."
Indeed, as the number of confirmed infections increased in the last month, Tehran either failed to recognize the gravity of the issue or, more likely, suppressed evidence of the outbreak entirely.
Childhood and Early Years
Masoumeh Ebtekar's Persian name is, and she was born on September 21, 1960, in Tehran, to a middle-class family as Niloufar Ebtekar. And he is now 59 years old. In English, her first name means "Innocent Water Lily." Fatemeh Barzegar and Taghi Ebtekar are her parents.
Masoumeh Ebtekar's father was a University of Pennsylvania student, and she grew up in Upper Darby, Philadelphia, with her sisters. She developed "near-perfect, American-accented English" during her six years in Philadelphia.
Education
When she returned to Iran, she enrolled in Iranzamin (Tehran International School). She became a supporter of Ali Shariati's political Islam after graduation and started wearing a traditional black chador that covered her entire body except her ears. Shahid Beheshti University awarded her a BSc in laboratory science, and Tarbiat Modares University awarded her an MSc and Ph.D. in immunology in 1995.
She has also worked as a professor at Tarbiat Modares University in Tehran, which is a postgraduate academic center. She has taught, supervised, and advised Ph.D. and MSc students as an Associate Professor of Immunology. Currently, Ebtekar teaches cytokines, viral immunology, HIV vaccines, ageing, nervous system immunology, and psychoneuroimmunology.
In her name, she has 41 ISI scientific publications in the field of immunology. In Tehran, she spoke at the Eleventh International Congress of Immunology. Masoumeh Ebtekar discussed the negative impact of sanctions on Iran's scientific progress, emphasizing that sanctions should not be aimed at specific countries. Masoumeh Ebtekar also serves on a number of scientific committees and serves as a reviewer for two international and four national immunology journals.
Professional Life and Career
Masoumeh Ebtekar is currently the Vice President of Iran and the Director-General of the Environmental Protection Organization, having been named on September 10, 2013. She previously served as Vice President of Iran from 2 August 1997 to 3 August 2005, making her the country's first female Vice President.
She rose to prominence as "Mary" first. Mary is the spokeswoman for the students who seized the US Embassy in 1979 and took hostages. Masoumeh Ebtekar later became the head of Iran's Environment Protection Organization during President Mohammad Khatami's administration and served on the Tehran City Council from 2007 to 2013.
Social and political careers
Masoumeh Ebtekar became the editor-in-chief of Kayhan International, an English daily newspaper, in 1981. Khatami, who was Ayatollah Khomeini's delegate in Kayhan Institute at the time, chose her. She worked as a reporter for the newspaper until 1983. Masoumeh was a co-founder of the Institute for Women's Studies and Research in 1991.
She has been the managing director and license holder of the Farzaneh Journal for Women's Studies and Research since 1992. In 1995, she was also named the Head of the Women's NGO Coordinating Office and Vice Chair of the National Committee for the Fourth World Conference on Women in Beijing. She was later named President of the Iranian Network of Women's Non-Governmental Organizations.
Early activism and involvement in the Iran-Contra Affair
In the 1979 Iran hostage crisis, where Muslim Student Followers of the Imam's Line occupied the US Embassy and kept 52 Americans hostage for 444 days, Ebtekar acted as a spokesperson for the students. They chose her because of her excellent command of the English language; she made frequent appearances on American television as a translator and spokeswoman for the students, presenting the students' official positions. The international press dubbed her "Mary," while the hostages dubbed her "Tiger Lily," a play on "Niloufar."
Vice-Presidentship
When the reformists took power, Masoumeh Ebtekar became the first woman to serve as Vice-President of Iran. Along with Zahra Shojaei, she was a member of the first cabinet to include women since the Islamic Revolution. In Mohammad Khatami's alliance, Masoumeh is identified as a leftist.
For eight years, Masoumeh Ebtekar led the Department of Environment. She also implemented significant institutional, operational, and strategic changes that enabled the government to be re-engineered. Environmental consciousness and support for civil society advocacy in this field grew throughout her tenure.
Awards and honors
Ebtekar was named one of the seven 2006 Champions of the Earth by the United Nations Environment Program. She was recognized as an influential and "inspiring" environmental leader. She has had an influence on politics in a particular area of the world. She asserts, however, that the award was the product of a collaborative effort. She claimed to have won her position because of the scholars and experts she gathered in her Department of the Environment. President Khatami was also instrumental in emphasizing the importance of environmental initiatives, according to her.
She was named one of 50 environmental leaders by the Guardian newspaper on January 5, 2008. On the list, she was the only Iranian or Muslim woman. Ebtekar was named one of the 500 most prominent Muslims in the world by The Muslim500 in 2012. They identified Ebtekar as "a significant force in the reformist movement in Iran" in the yearbook's political section.
Ebtekar was honored with the Energy Globe Foundation Honorary Lifetime Achievement Award on January 24, 2014 in Tehran. Masoumeh Ebtekar was also awarded the Italian Minerva Award on November 29, 2014. It was in recognition of her scientific accomplishments and active political career. Dr. Masoumeh Ebtekar was awarded an Honorary Doctorate in Political Science by the Hankuk University of Foreign Studies in Seoul, Korea, in May 2016.
a collection of books
Ebtekar contributed a testimony of over eighty visionaries to Moral Ground in 2010, presenting a complex and convincing call. It was to honor our spiritual obligation to our world, both individually and collectively. Masoumeh Ebtekar shares her thoughts about how peace and sustainable development are intertwined. It's in her essay "Peace and Sustainability Need the Spiritual and Feminine," which she wrote.
Status of the Relationship
Seyyed Mohammad Hashemi and Ebtekar Hashemi are husband and wife. Her husband is a private-sector businessman. Furthermore, they married in the year 1978 and have two children. Isa Hashemi and Taha Hashemi are their names. Aside from that, there isn't anything known about her family.
Social Media and Body Measurements
There is no detail available about the Vice President's body measurements. Height, weight, chest-waist-hip measurements, dress size, shoe size, and other information about Ebtekar are all unavailable. Furthermore, she has dark brown eyes and mostly wears a hijab, so her hair color isn't visible.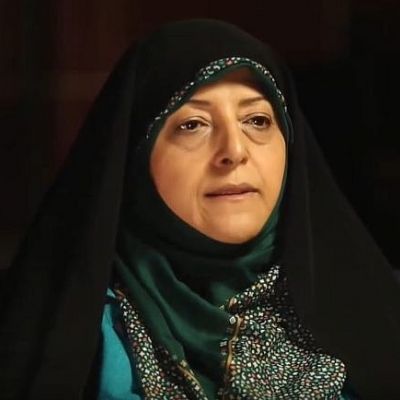 Massoumeh Ebtekar began using Twitter in November 2013 and currently has 97.2k followers. As of March 2020, she has 189k followers and 1212 posts on Instagram.
Quick Facts
| | |
| --- | --- |
| Full Name: | Niloufar Ebtekar |
| Born Date: | 21 Sep, 1960 |
| Age: | 60 years |
| Horoscope: | Virgo |
| Lucky Number: | 10 |
| Lucky Stone: | Sapphire |
| Lucky Color: | Green |
| Best Match for Marriage: | Taurus, Capricorn |
| Gender: | Female |
| Profession: | Iranian Politician, Vice President |
| Country: | Iran |
| Marital Status: | married |
| Husband | Seyyed Mohammad Hashemi |
| Eye Color | Dark Brown |
| Birth Place | Tehran |
| Nationality | Iranian |
| Ethnicity | Asian |
| Religion | Islam |
| Education | Tarbiat Modares University |
| Father | Taghi Ebtekar |
| Mother | Fatemeh Barzegar |
| Kids | Two (Isa Hashemi and Taha Hashemi) |
| Twitter | Niloufar Ebtekar Twitter |
| Instagram | Niloufar Ebtekar Instagram |
| IMDB | Niloufar Ebtekar IMDB |
| Wiki | Niloufar Ebtekar Wiki |