Marcus Smart is a professional basketball player in the United States who currently plays for the Boston Celtics of the National Basketball Association (NBA) (NBA). Marcus Smart was selected with the sixth overall selection in the 2014 NBA draft after playing college basketball for the Oklahoma State Cowboys.
Marcus Smart of the Boston Celtics has tested positive for coronavirus!
On Thursday night, Celtics guard Marcus Smart revealed on Twitter that he had tested positive for coronavirus. Since being screened on Saturday, he has been asymptomatic and in isolation, he said.
Smart said in a video posted to his Twitter account, "I'm OK." "I'm in good shape. I'm not experiencing any of the signs. But I can't emphasize enough the importance of practicing social distancing or holding yourself apart from a large group of people, and just washing your hands to protect yourself and others."
Smart will remain isolated while being supervised by Celtics medical personnel, according to the team. The team also mentioned that it is awaiting the results of additional tests. Smart was unable to participate in the Celtics' March 2 rehearsal due to illness. The next morning, he identified symptoms that were not thought to be consistent with a coronavirus diagnosis, mostly vomiting, despite recent studies suggesting that gastrointestinal discomfort could be an early sign of the virus in some people.
Marcus Smart shared a video on his Instagram account spreading knowledge about CoronaVirus. Instagram is the source of this information.
On Instagram, he wrote:
"Listen up, young people… from hanging out in groups and being selfish. This is not a prank. I was screened five days ago, and the results came back positive tonight. Thankfully, I've been self-quarantined since the examination. COVID-19 must be treated with extreme caution. I know it's a top priority for our country's health officials, and we need to get more research done as soon as possible! I've had no symptoms and am in excellent health. However, our country's younger generation must maintain a healthy sense of self-discipline. This isn't a prank. It is egotistical not to do so. We can beat this together, but we have to do so by being apart for a short time. Many thanks!!"
More on his tribulations
Smart told CNN that he was not concerned about his symptoms worsening. "I talked to my doctors, and they just told me that while I haven't had any symptoms yet, I'm on the last curve of the ball. "All I want to do now is put this behind me and move on."
Smart then said, "I'm feeling better." "It was a difficult day yesterday. I was puking every 20 minutes or so. It's just a stomach bug. But I'm starting to feel better. I was able to hold my stuff down and get out here and drive, so that makes me happy." "I'm in great shape, and I'm in good shape. On Friday, the 26-year-old from Texas told CNN, "I feel like I should go play a game right now."
"Be on the lookout. Take the required precautions. You protect others by defending yourself. That is the secret to success. People aren't having any signs, so it's difficult to tell whether they have the infection. However, being in a group of people, such as friends or relatives, and not isolating themselves makes you a carrier. You will transmit the virus without even realizing it."
Childhood and Early Years
Marcus Smart was born Marcus Osmond Smart on March 6, 1994, in Lancaster, Texas. Billy Frank and Camellia Smart were his parents when he was born. He is American and belongs to the Afro-American minority community in terms of nationality. He is also 26 years old and born under the sign of Pisces. Michael Smart, Jeff Westbrook, and Todd Westbrook were his siblings when he was growing up.
Education
Marcus Smart went to Texas' Edward S. Marcus High School, where he was a member of the basketball team. He averaged 15.1 points and 9.2 rebounds during his high school career. He was also an ESPN first-team American and a McDonald's All-American. Marcus Smart attended Oklahoma State University and played basketball for the Oklahoma State Cowboys after graduating from high school.
Professional Life and Career
The Boston Celtics drafted Marcus Smart with the 6th overall selection in the 2014 NBA Draft. Along with Isaiah Thomas, James Young, Tyler Zeller, and Evan Turner, he joined the Celtics for the 2014 NBA Summer League. On July 10, he signed a contract with the team.
Furthermore, on November 15, 2015, he set a career high with 26 points in a 100–85 win over the Oklahoma City Thunder. The following year, on January 15th, Smart posted his first career triple-double with 10 points, 11 assists, and 11 rebounds in a win over the Phoenix Suns, becoming the first Celtics rooster to do so since Art Williams did so in 1971.
In a loss to the Orlando Magic on January 31, 2018, Smart set a new career high with 26 points. Furthermore, the Celtics made a qualifying bid to make Smart a restricted free agent on June 29, 2018. On July 19, the same year, Smart signed a four-year, $52 million contract extension with the Celtics.
Awards and Highlights
NBA All-Rookie Second Team in 2015
Second-team All-American by consensus in 2013.
2014: NABC All-American third team
Player of the Year in the Big 12 in 2013
2*All-Big 12 first-team selection (2013, 2014)
USBWA National Freshman of the Year in 2013
Freshman of the Year in the Big 12 in 2013
McDonald's All-American in 2012
Mr. Basketball, Texas, 2012
Personal Experiences
Marcus hasn't said much about his romantic past. He could be in a relationship or he could be single. He hasn't confirmed anyone as his girlfriend as of yet. Marcus has kept his personal life out of the spotlight. Similarly, he has not been interested in any speculation or scandals.
Body Dimensions
Marcus stands 6 feet 3 inches tall and weighs about 100 kilograms. He has a muscular physique. He also has dreadlocked black hair and dark brown skin. His other body measurements are currently unavailable.
Net Worth and Social Media
He is well-known on social media. His Twitter handle is @smart MS3, and he has over 249K followers. Marcus' Instagram username is "@youngamechanger," and he has over 525K followers. He can also be found on Facebook, where he has over 167K followers.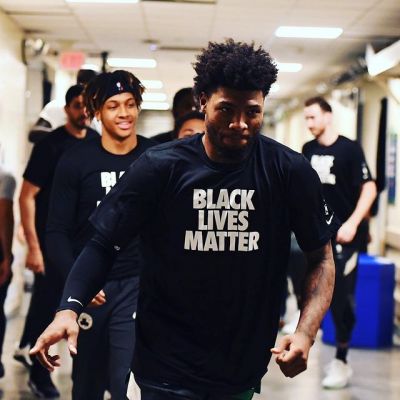 Marcus makes money by playing NBA basketball. Salary, bonuses, benefits, and contract extensions are his primary sources of revenue. In addition, he has an Adidas sponsorship contract. He has a net worth of more than $10 million as of 2018. For the 2018-19 season, his average salary is $11,160,716. However, as of 2019, his net worth is projected to be around $5 million. However, as of 2020, there is no details on his net worth or salary.
Quick Facts
| | |
| --- | --- |
| Full Name: | Marcus Smart |
| Born Date: | 06 Mar, 1994 |
| Age: | 27 years |
| Horoscope: | Pisces |
| Lucky Number: | 5 |
| Lucky Stone: | Aquamarine |
| Lucky Color: | Sea Green |
| Best Match for Marriage: | Cancer, Scorpio |
| Gender: | Male |
| Profession: | Basketball Player |
| Country: | USA |
| Height: | 6 feet 3 inches (1.91m) |
| Marital Status: | single |
| Eye Color | Dark Brown |
| Hair Color | Black |
| Birth Place | Lancaster, Texas |
| Nationality | American |
| Ethnicity | Afro-American |
| Education | Oklahoma State University |
| Father | Billy Frank |
| Mother | Camellia Smart |
| Siblings | three (Michael Smart, Jeff Westbrook, and Todd Westbrook) |
| Facebook | Marcus Smart Facebook |
| Twitter | Marcus Smart Twitter |
| Instagram | Marcus Smart Instagram |
| Wiki | Marcus Smart Wiki |