Lohanthony has become a social media sensation. Lohanthony has gotten a lot of attention on YouTube, Vine, Twitter, Tumblr, and Instagram.
Wiki, Bio, Age,  Family, Siblings, Childhood & Education
Who is Lohanthony? Lohanthony is a 23-year-old actor. He was born in Melrose, Massachusetts, on May 24, 1999, under the sign of Gemini. Anthony Quintal is his true name. He's unfiltered and unapologetically honest. Monica Quintal is his mother's name, and David Quintal is his father's name. He, too, has three siblings. He and his family live in Salem, Massachusetts.
In terms of his educational background, he went to a New Hampshire middle school. There is no information available on his future studies. Lohanthony's nationality is also that of an American.
Lohanthony's Height, Weight & Body Measurement
What is Lohanthony's Height? Lohanthony is attractive. He hasn't revealed his height, weight, or other physical characteristics. His hair is shoulder length and brown with a dark brown undertone.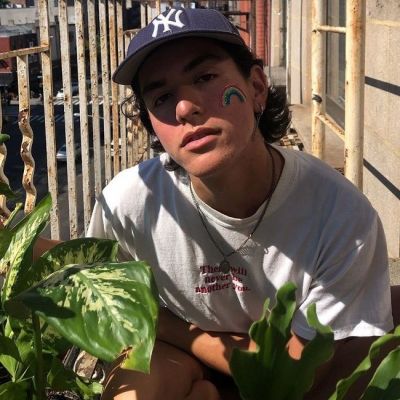 Lohanthony's Profession & Career
In terms of Anthony's work life, he is a well-known social media celebrity who has amassed a large following across several media platforms. His online alias is called Lohanthony, which is a combination of his given name Anthony and the last name of his favorite celebrity, Lindsay Lohan. Lohanthony is a well-known social media personality with millions of Twitter and Instagram followers and subscribers. His social footprint is enormous, with an ever-increasing number of views on his YouTube channel and other platforms.
Similarly, he connects with his audience through ordinary challenges that children face, such as school, bullying, and a significant fashion issue. He has influenced a lot of people because of the manner he has accepted his challenges and remained his usual explosive self. He is one of the most sought-after social media influencers, with firms vying for his endorsement, resulting in a net worth of several million dollars.
Furthermore, his content is full of humor, and he is naturally hilarious. When he was nine years old, he began making videos on his parents' computer. With new gear and countless makeovers, he has gotten a lot better since then. His charisma, his carefree attitude, and his zest for life have remained constant. Back in 2012, he drew the attention of YouTube users with a short video titled "CALLING ALL THE BASIC BITCHES."
"There is a new announcement: you're basic," he says in the video, donning blue goggles and a pink suspender. This video was the pinnacle of outrageous defiance against all that is ordinary and "simple." Its visuals reverberate with viewers, and it quickly surpassed a million views. Designer Marc Jacobs and supermodel Kate Moss, on the other hand, gave it a shot.
More
His channel frequently posts videos about many parts of his personal life, with a focus on glamour and fashion, particularly thrifting. Lohanthony's tone is lighthearted and amusing without being harsh. His online presence has earned him nominations for the Teen Choice Award for Choice Web Collaboration in 2014 for his collaboration project Fab Five in Real Life and the Teen Choice Award for Choice Web Star: Comedy in 2014, both for his collaboration project Fab Five in Real Life.
Furthermore, he was ecstatic when he was asked to host the "Teen Wolf After Show" (his favorite show) and was "treated like royalty" by MTV executives. He even signed a deal with YouTuber Connor Franta's music label, Heard Well, and produced an album called "Landscapes: A Music Compilation by Lohanthony." He's also appeared in films such as 'Tosh.0' from 2009, 'Teens Wanna Know' from 2012, and 'Miss Stevens' from 2016.
On January 14, 2012, he posted a video titled "this goes out to all the idiot h03$," which has nearly 447,603 views. His next video, "ME DOING THE CINNAMON CHALLENGE," received over 2 million views. Another video, titled "WHY I WAS EXPELLED FROM FIRST GRADE (ASK MOMMA LOHANTHONY)," has 1.3 million views.
Anthony Quintal is also an actor, known for his roles in Miss Stevens (2016), Beach (2015), and Mr. Student Body President (2016).
Lohanthony's Income And Net Worth
How much is Lohanthony's Income? In terms of Lohanthony's profits, he is a social media sensation who has amassed a sizable fortune via his efforts. He has not, however, publicized his earnings on the internet. His net worth, however, has been reported to be approximately $1 million as of January 2023 by certain web sources.
 Lohanthony's Girlfriend, Marriage & Relationship
Who is  Lohanthony's Girlfriend? In terms of his personal life, Lohanthony appears to be single. He is guarded about his personal life, despite his innate affection for his family. His first love, he maintains, is YouTube. Despite earning millions of dollars in ad revenue and representation, he enjoys going to thrift stores and his videos routinely shows his hauls, just like any other adolescent.
His personal life is kept private, yet his detractors and adversaries publicly label him as gay. He has never taken the bait and has never given an explanation for it. Lohanthony has, however, been warned about the vulgarity and inappropriate words he frequently uses in his writing. He did, however, share a photo of himself on July 1, 2019, with the words "remain gay #pride #therewillneverbeanotheryou #sorryboston."
Controversies
Lohanthony has frequently embroiled himself in fights with other internet celebrities such as RiceGum and Alx James due to his obstinacy. His run-in with RiceGum began when he left a nasty message under the door, mocking RiceGum's new Disstrack, which he was blasting out loudly. RiceGum responded by accusing him of roasting his Diss Track in a very public YouTube vlog. RiceGum, he claimed, was tormenting him through his fans. Alx James was accused of stalking his friend's Vine, according to him. He blocked Alx James after a long and drawn-out Twitter argument.
Similarly, his vlog channel features a number of rants about having to return to school, primarily because he is the target of derision and bullying. Anthony, furious, confronted his tormentors in one of his recordings, eliciting negative comments from his school's parents as well as death threats.
Lohanthony's Social Media(Facebook, Twitter, Instagram)
He is active on several social media sites such as Instagram, YouTube, Twitter, and others as a social media personality. On his Twitter account, he now has over 1.2 million followers. He has over 1.2 million Instagram followers under the handle @lohanthony. He also has a YouTube channel with over 80 million subscribers.
Quicks Facts