Lee Sun Kyun is a South Korean actor who has appeared in a number of films. Lee Sun Kyun is best known for his roles in the Korean dramas and films Coffee Prince (2007), Pasta (2010), Golden Time (2012), My Mister (2018), and Parasite (2009).
Early Years
The talented actor was born in South Korea on March 2, 1975. Similarly, he is 45 years old now. Lee Sun Kyun is a Korean national of an Asian ancestry. When it comes to his personal life, the actor is extremely private. This is the primary explanation for his lack of knowledge outside of his profession. In terms of his studies, he graduated from the Korean National University of Arts in 1994 with a BFA (Bachelors of Fine Arts) in Acting. Lee was a member of his college's drama club's lightning squad.
One of his seniors ran away during a drama, and Sun-Kyun was the one to replace him. Sun-Kyun was drawn to the stage and wanted to pursue a career as an actor. It was at this time that he dropped out of school to pursue his acting career at the Korean National University of Arts. He was really interested in basketball when he was in high school. Every day, he used to play basketball for nearly 12 hours. He still enjoyed music and advertisements at the time. He also aspired to work as a producer for radio shows.
Professional Life and Career
Lee Sun-Kyun completed the first-ever batch of the Korea National University of Arts' School of Drama after being accepted. In the stage musical "The Rocky Horror Show," he made his first appearance as Brad Majors in 2001. He then went on to play a variety of minor supporting roles for several years. He finally got his major achievement in 2007 after all of his hard work and persistence. He got a lot of acclaim for his roles in the medical drama "White Tower" and the famous romantic series "Coffee Prince."
Aside from the drama "Coffee Prince," he has worked with director Lee Yoon-Jung on two other occasions. In 2005, he starred in the sports-themed Taereung National Village, and in 2009, he starred in the slice-of-life drama "Triple." In 2007, Lee was hired as an ambassador for the Health Insurance Review Agency. He also received an award from the Korea Advertisers Association in 2008. Despite his growing success, Lee turns to low-budget arthouse films to boost and brighten his acting skills and abilities.
In addition, Hong Sang-soo, a stage director known for his realistic portrayal of everyday life, directed all of the films, including "Lost in the Mountains," "Night and Day," "Our Sunhi," "Oki's Movie," and "Nobody's Daughter Haewon." Lee also starred in Paju, for which he won the Best Actor award at the Las Palmas de Gran Canaria International Film Festival, which took place in Spain. The judging committee gave Lee high marks for playing the pain, which he felt for loving his spouse's younger sister, according to movie distributor Myung Film.
 Professional life
Lee shook off his "gentle" television drama image with "Pasta," in which he played an excellent-but-harsh cook, and the series' fame made him a profitable romantic leading man. Petty Romance reconciled him with Choi Kang-hee, his co-star on "My Sweet Seoul," and one-upmanship action comedy "Officer of the Year" or "Arrest King" soon followed. In addition, Lee appeared in "Our Somewhat Risque Relationship" to show his support for the revival of Drama Special (formerly Drama City). Later, at the KBS Drama Awards, his incredible acting abilities were recognized.
He has also consistently defended the short drama format as a valuable training ground for young talent, acknowledging its benefits to his own career. He appeared in two consecutive big-screen successes in 2012: the mystery thriller film "Helpless" and the romantic comedy "All About My Wife." Lee played a trauma doctor in Golden Time, reuniting with Pasta director Kwon Seok-Jang. "Miss Korea" was his third collaboration with Kwon. It's a drama set in the 1990s, but it's not about the IMF crisis. In the year 2013, Lee returned to the theater to see his wife, Jeon Hye-jin, in Mike Bartlett's stage act "Love, Love, Love."
The following year, he starred in the film "A Hard Day," which premiered at the 2014 Cannes Film Festival's Directors' Fortnight. It became a critically acclaimed sleeper success at the box office. In addition, Lee appeared in the courtroom drama film "The Advocate: A Missing Body" in 2015. Then, in 2018, Lee appeared in another widely praised TV series, "My Mister." In the same year, he appeared in the action thriller "Take Point." Lee played the lead role in the legal TV series "Prosecutor Civil War" in 2019.
Nominations and Awards
This Korean actor's perseverance and hard work have paid off handsomely. For his achievements, he has received many awards. In 2007, he won the Golden Acting Award for Actor in a Miniseries for his role in the Korean drama "White Tower." Then, for his work in "Coffee Prince," he received the Excellence Award in 2007. Lee Sun Kyun received two awards for his performance in "Pasta" in 2010: "Top Excellence Award" and "Best Couple Award" (which he shared with Gong Hyo-jin). In 2012, the actor's role in "Golden Time" won him the Top Excellence Award. In 2014, he was also the recipient of the Excellence Award for the K-drama "Miss Korea."
 Net Worth
Lee Sun Kyun, as a prolific and well-known actor, has undoubtedly amassed a substantial sum of money throughout his acting career. The actor's net worth is estimated to be around $5 million. In addition, his acting career is his primary source of income. There is also a lack of knowledge about the properties he owns.
  Relationship Status
On May 23, 2009, in the AW Convention Center Grand Ballroom in Buam-dong, Seoul, Lee Sun-Kyun married actress Jeon Hye-Jin. Prior to their marriage, the pair had been in a romantic relationship for seven years, beginning in 2002. Lee Rock and Lee Roon are the names of the couple's two children. Their first son arrived on November 25, 2009, and their second son arrived on August 9, 2011. Apart from that, there is no detail about their first meeting or any of the others. To this day, the well-known actor has remained free of controversies and speculation.
Social Media and Body Measurement
The actor stands at a respectable height of 5 feet 11 inches and weighs 70 kilograms. He has brown eyes and brown hair. His blood type is A, as well. Every fan adores his body shape, as well as his friendly demeanor. As an actor, he clearly has a well-kept physique and good fitness. He has a muscular and slender frame. His endearing personality and dashing appearance have won him many admirers.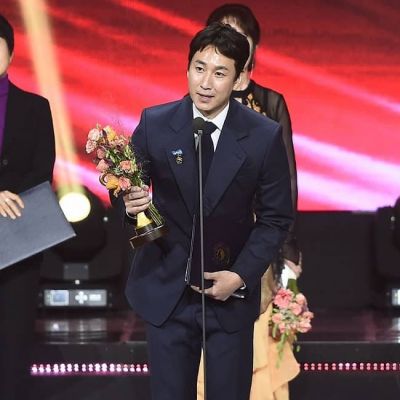 The well-known actor does not seem to be involved on any social media sites. He enjoys spending his own time with his family and himself when he is not working in the entertainment industry, unlike most actors. Furthermore, Lee Sun Kyun is averse to disclosing personal details to others. Fans and followers of the star, on the other hand, have clearly built fan pages for him on social media sites.
Quick facts
| | |
| --- | --- |
| Full Name: | Lee Kyun |
| Born Date: | 02 Mar, 1975 |
| Age: | 46 years |
| Horoscope: | Pisces |
| Lucky Number: | 9 |
| Lucky Stone: | Aquamarine |
| Lucky Color: | Sea Green |
| Best Match for Marriage: | Cancer, Scorpio |
| Gender: | Male |
| Profession: | Actor |
| Country: | South Korea |
| Height: | 6 feet 0 inches (1.83m) |
| Marital Status: | married |
| Married Date: | May 23, 2009 |
| Wife | Jeon Hye-Jin |
| Net Worth | $5 million |
| Eye Color | Brown |
| Hair Color | Brown |
| Nationality | Korean |
| Ethnicity | Asian |
| Education | Korean National University of Arts |
| Kids | Two (Lee Rock and Lee Roon) |
| IMDB | Lee Kyun IMDB |
| Wiki | Lee Kyun Wiki |