Leda Muir is an internet celebrity from the United States. Leda Muir is best known for her hilarious YouTube posts, vlogs, and make-up tutorials. She also went by the name Leda Lifeweary during her "scene period" in 2007, but later changed it to LedaMonsterBunny.
Childhood and Early Years
Leda Muir was born in Ojai, California, on July 28, 1994. Her astrological sign is Leo, and she is 26 years old. Kendra Ann Muir is her mother's name, and Chaun Eric Muir is her father's. Her parents divorced when she was a child. Her mother, along with all six of the family cats, relocated to Portland, Oregon on March 31, 2015. After living with her father in California for a while after her mother moved abroad, Leda decided to join her in Portland.
Leda was overweight as a child and was teased about it at school. She started eating just 500 calories a day in the summer of 2007, drank plenty of water to stay hydrated, and went on walks with her mother to lose weight. She became ill with an eating disorder and lost 40 pounds in just two months. Because of her frailty, she was made fun of even more.
Ascend to the Top
Leda first appeared on the scene in 2007, under the name Leda Lifeweary, but later changed her name to LedaMonsterBunny. The monster in her "scene" name refers to a common energy drink she used to consume, while the bunny refers to her childhood resemblance to a bunny.
She's allergic to bunnies, which is ironic. For a brief period of time, she even went by the name Scinon. Her first site, ledafknbanana, was hacked in 2010, but her fans were able to save and reupload some of her tutorials and videos from when she was a teenager. Following the hack, she created another channel, LedaDragonLady, which was also hacked. Finally, she renamed her old channel to 'HaiLedaBear.'
Quick vlogs and random videos with her friends and ex-boyfriend, Nathan Owens, were her first videos on this website. Leda used to post hair and make-up videos on her 'HaiLedaBear' account, but she had to take them down until she partnered with YouTube because the music she was using was copyrighted. The tutorials have been reuploaded by viewers since then, so they are still available.
More…
Her most famous videos are advertisements in which she appears in photographs that her fans send to her. On the HaiLedaBear website, her most famous video is "7 Odd Things That Seduce Men," which has over 1 million views. Leda's image had shifted from that of a scene girl to that of a fantasy enthusiast around January 2014. Her hairstyle and wardrobe had changed to reflect this as well.
Due to personal problems and the way she was being handled online, Leda removed all of her social media pages on August 27, 2014. Leda has resurfaced on the internet as of March 19, 2015. She also has a Twitter account (@LedaCMuir) and an Instagram account (TheLedaBunny). Her new YouTube channel is also called TheLedaBunny.
Scandals and Personal Life
She met her first boyfriend, Josh, who lived in Iceland, on MySpace. She went to Iceland to see him when she was 14 years old and swore she would marry him. They ended their relationship after about a year together. Leda finally encountered a boy called 'Cameron,' who left her with bruises, broke her wrist twice, robbed over $2,000 from her, and introduced her to drugs and smoking.
Leda claims that the medications she took were not harmful, but she never says what she took. Someone set fire to Leda's father's house when they were sleeping in October 2009. She narrowly escaped with her life. Cameron is said to have started the fire, but it is unclear whether or not this is accurate.
In October 2009, she started dating Nathan Owens after ending her destructive relationship with Cameron. They broke up in August 2011 but never said anything about it other than he left her in the middle of the night with nothing but a note.
She started dating her friend Alfredo a few months later. However, in July 2012, they called it quits. She started dating MattG124 shortly after their split. They dated for a year before calling it quits. She went to live with him in Canada for a while.
More…
She was dating Zachary Hearts until she left the internet, and they broke up in February/March 2015. She dated SayWeCanFly, a YouTuber, from June 2015 to sometime between the end of 2016 and the beginning of 2017. Braden Barrie is his real name.
Leda lived in London, Canada with her ex-boyfriend Matt from 2012 to 2013, before returning to Ojai after their split. In 2014, she moved to California to live with her father, while her mother relocated to Portland, Oregon. That worked for a while before she decided to move in with her mother in Portland after a short period of time. On Twitter, she said that she needed a more supportive atmosphere in order to be creative and film.
Body Dimensions
Leda has a great body shape. She maintains a safe and athletic physique. She has not, however, revealed her body measurements to the media. She also has dark brown eyes and often dyes her hair in various colors. As a result, she has dyed her hair black, blonde, blue, white, and other colors. She also has several tattoos on her body.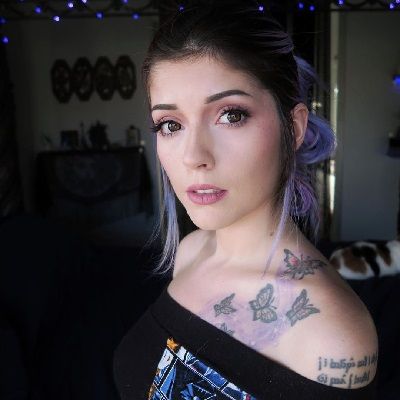 Net Worth and Social Media
Her Instagram account, @theledabunny, has over 525K followers. Her Twitter account has amassed more than 84.5K followers. Her YouTube channel, dubbed "Leda Muir," has over 142K subscribers. Furthermore, she has provided a link to her website where you can read and purchase her books!
In her life, this social media star has suffered and accomplished a lot. As of July 2020, he has a net worth of between $1 million and $5 million.
Quick Facts
| | |
| --- | --- |
| Full Name: | Leda Muir |
| Born Date: | 28 Jul, 1994 |
| Age: | 26 years |
| Horoscope: | Leo |
| Lucky Number: | 4 |
| Lucky Stone: | Ruby |
| Lucky Color: | Gold |
| Best Match for Marriage: | Sagittarius, Gemini, Aries |
| Gender: | Female |
| Profession: | YouTuber, Instagram Star |
| Country: | USA |
| Marital Status: | single |
| Break Up | Braden Barrie |
| Net Worth | $1 Million – $5 Million |
| Eye Color | Dark Brown |
| Birth Place | Ojai, California |
| Nationality | American |
| Father | Chaun Eric Muir |
| Mother | Kendra Ann |
| Twitter | Leda Muir Twitter |
| Youtube | Leda Muir Youtube |
| Instagram | Leda Muir Instagram |
| Personal Web | Leda Muir Personal Web |