John Albert Elway Jr. is a former quarterback in the National Football League. He is presently the general manager and president of football operations for the National Football League's Denver Broncos (NFL).
Early Childhood
John Albert Elway Jr., 60, was born on June 28, 1960, in Port Angeles, Washington. He is a citizen of the United States. Similarly, he is 60 years old. He and his twin sister were born to Janet and Jack Elway, who was the head coach at Port Angeles High School on the Olympic Peninsula at the time. Lee Ann, a year older than the twins, was part of the family of five. The following year, they relocated to southwestern Washington. For five seasons, Jack was the junior college head football coach at Grays Harbor Community College in Aberdeen.
When his father was an assistant coach at Montana and Washington State, Elway spent most of his childhood in Missoula, Montana, and Pullman, Washington. Jack joined the staff of Palouse neighbor Idaho in February 1976, but a month later became the head coach at Cal State-Northridge, a Division II college in Southern California. After John's freshman year at Pullman High School, the family relocated to the San Fernando Valley, where he finished his football career at Granada Hills High School in Granada Hills, under head coaches Jack Neumeier and Tom Richards. He enrolled at Stanford University in 1979, where he played football and baseball.
Professional Life
Elway was an All-American college football player at Stanford before graduating with a degree in economics in 1983. He was the first-round choice of the National Football League's professional football teams (NFL). He also went on to become a quarterback with the Denver Broncos. He would stay in this position for the rest of his professional football career. He broke the Broncos' single-season records for attempts (605), completions (327), passing yards (3,891), and more in 1985. The Broncos won their first American Football Conference (AFC) championship in nearly ten years in 1986, thanks to Elway's leadership. Elway was awarded the NFL's Most Valuable Player (MVP) and a member of the Sporting News All-NFL team in 1987.
Elway was also selected the Colorado Sports Hall of Fame's Pro Athlete of the Year and the Broncos' offensive MVP. In Super Bowl XXII, he became the first quarterback in Super Bowl history to catch a pass. Elway made his second Super Bowl appearance in 1989, scoring the only touchdown for his side. Despite a lingering shoulder issue, Elway led his club in touchdowns with a then-career best of six in 1991. Similarly, in the 1992 off-season, he underwent arthroscopic surgery to repair a shoulder problem. Elway returned to action in the 1992 regular season, and he was better than ever, delivering the longest touchdown pass of his career, 80 yards.
Elway was selected the NFL Players Association's AFC MVP in 1993, as well as United Press International's (UPI) AFC Offensive Player of the Year and Football News' AFC Player of the Year. He was also named All-AFC by UPI and Football News this year, as well as second-team All-NFL by the Associated Press, College and Pro Football Weekly, and Football Digest. Elway scored 26 touchdowns, threw 14 interceptions, and threw for more than 300 yards five times in 1995, all of which were career highs for him. His 26 touchdowns also set a Broncos record. In 1996, he had 26 touchdowns and 14 interceptions, and he duplicated this accomplishment.
More on his professional background
In 1996, he also established Broncos marks for most games played (192) and most straight games scoring touchdown passes (15). When he was with the Broncos, Elway became known for his dramatic, last-second game-winning touchdowns. He also led the NFL in victories by a starting quarterback and passing Peyton Manning for first position in rushing attempts by a quarterback. During his 16-year career with the Broncos, Elway appeared in five Super Bowls, winning the last two, Super Bowl XXXII and XXXIII. During his time with the Broncos, Elway became only the second player in NFL history to pass for over 50,000 yards, and he led the league in both starting quarterback victories and rushing attempts. Elway was a world-famous athlete during the height of his stardom.
In the 1990s, looking ahead to his retirement from football, Elway opened a vehicle dealership in the Denver region. By the turn of the century, this company had expanded to encompass seven vehicle franchises. He also became a philanthropist, offering time and money to child abuse victims and the Make-A-Wish Foundation. After two Super Bowl victories in a row and 16 years as a Broncos quarterback, Elway opted to retire in 1999. The Denver Broncos Ring of Fame Committee waived its standard five-year waiting period when a player retires from the team to induct Elway into the Ring of Fame immediately upon Elway's retirement announcement.
Elway's jersey number, seven, was also retired by the committee, making him the third player in Broncos history to have his number retired. On September 13, 1999, Elway was inducted and his number retired at a halftime ceremony at Mile High Stadium in Colorado. Elway, who was 42 years old at the time, felt uneasy in retirement and wasn't ready to settle into a life of leisure. He found his solution in the shape of a partial ownership investment in the Colorado Crush of the Arena Football League (AFL). The franchise, which planned to begin regularly scheduled games in 2003, provided Elway with a competitive atmosphere as well as a role in a business that he had been looking for. Best of all, it allowed Elway to continue playing football.
Nominations and Awards
Elway's accomplishments were recognized once more in 1997. It was when he was named the NFL Players Association's Mackey Award winner as the AFC's finest quarterback. Elway also helped the Broncos' offense become the top in the NFL for the second season in a row in 1997. Similarly, he has received numerous accolades and prizes as a result of his career and hard work.
Net Worth
The 60-year-old American football player has had a successful career. John Elway is worth $145 million. He makes his money from a variety of sources. In addition, in March 2001, Elway sold the majority of his stock in his auto dealership chain for $82.5 million.
Relationship Status
Paige Green is presently married to John Elway. The couple began dating in 2005 and have been together for around 15 years. He is a Sagittarius, while she is a Virgo. Paige Green is 53 years old, while John is 60. According to CelebsCouples, John Elway has at least three previous romances. Paige Green is well-known as a cheerleader. She was born in the Year of the Horse as well. Every week, John Elway sent her roses and took the kids on shopping trips and other outings.
Janet Elway (1984–2003) was John Albert Elway Jr.'s first wife. Prior to Paige Green, he had at least three romances. Carrie Stevens was John Elway's girlfriend from 2004 to 2005. As if Elway's father and sister's losses weren't heartbreaking enough. Janet, his wife, left soon after Jana's death, taking the couple's four children with her. It was a wake-up call for the football star, who realized that the strains of his football career, as well as his later business career, had strained his family life to the breaking point. In addition, he has four children: Jack Elway, Jessica Elway, Jordan Elway, and Juliana Elway.
Scandal
Jack Elway, Elway's father, died after a heart attack in April 2001. Elway considered his father to be his best friend, and Jack was an early supporter of Elway's football career. In 2002, tragedy hit the Elway family once more. Jana Elway-Sever, his twin sister, had started teaching in San Jose, California, in July. She died at the age of 42, after a two-year struggle with lung cancer. Jana had been very ill at the time of Jack Elway's death the year before. She did, however, make it to the funeral service.
Social Media and Body Measurement
In terms of physique measurements, he stands at an average height of 6 feet 2 inches. He also weighs 98 kilograms. He used to have dark hair, but as he's become older, he's developed white hairs on his head. In addition, he has blue eyes. He used to have an athletic body type, but he is now extremely obese. Despite his advanced age, he appears to be in good health.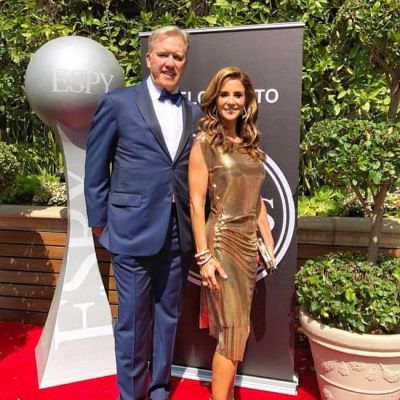 When it comes to his presence on social media platforms, he is fairly active. He is active on Instagram, Facebook, and Twitter. His Facebook page has over 500K followers, while his Twitter account has over 1 million followers. In addition, his Instagram account has 73.8 K followers. His social media profiles are flooded with work-related posts, photos of his wife, and family photos. However, it is certain that he remains in contact with his supporters.
Quick Facts
| | |
| --- | --- |
| Full Name: | John Elway |
| Born Date: | 28 Jun, 1960 |
| Age: | 61 years |
| Horoscope: | Cancer |
| Lucky Number: | 5 |
| Lucky Stone: | Moonstone |
| Lucky Color: | Silver |
| Best Match for Marriage: | Taurus, Pisces, Scorpio |
| Gender: | Male |
| Profession: | Football Quarterback, General Manager, and President |
| Country: | United States |
| Height: | 6 feet 1 inches (1.85m) |
| Marital Status: | married |
| Wife | Paige Green |
| Divorce | Janet Elway |
| Net Worth | $145 million |
| Eye Color | Blue |
| Hair Color | White |
| Birth Place | Port Angeles |
| Nationality | American |
| Education | Stanford University |
| Father | Jack Elway |
| Mother | Janet Elway |
| Siblings | Jana Elway |
| Kids | Four (Jack Elway, Jessica Elway, Jordan Elway, and Juliana Elway) |
| Facebook | John Elway Facebook |
| Twitter | John Elway Twitter |
| Instagram | John Elway Instagram |
| IMDB | John Elway IMDB |
| Wiki | John Elway Wiki |