Jai Brooks is a YouTube comedian, prankster, stunt actor, visual artist, and entertainer who hails from Australia.
Childhood and Early Years
Jaidon Domenic Matthew Brooks is Jai Brooks' full name. He was born in Melbourne, Australia, on May 3, 1995. He is now 27 years old and was born under the sign of Taurus. Luke Brooks, his twin brother, and Beau Brooks, his older brother, are his siblings. He was also born two minutes after Luke, his twin brother.
His mother, Gina Brooks, is not only his biggest supporter and fan but also his manager. She assists him in scheduling trips and business meetings, as well as accompanying him to these events. Jai was an excellent student in his school years. Jai and his brothers decided to drop out of high school and focus on their YouTube careers.
Regarding himself
Jai has a good sense of style, a hat fetish, and a mischievous smile. His friends taunt him about his name all the time, but he laughs it off. He is very sporty and readily accepts dares. Jai is also one of the most dedicated members of the group, as he is constantly editing or improving the videos even when the group isn't recording them. He enjoys keeping in shape and shares pictures of himself on Instagram on a daily basis.
With all of the attention that Jai has received, it is difficult for him to stay out of the spotlight, as he is constantly scrutinized by the public and the media. Jai considers music to be the cure for his soul. Usher, Justin Bieber, Michael Jackson, and Bruno Mars are among his favorite R&B artists.
Jai enjoys sports and video games. He is also a foodie, with lasagna and tacos among his favorites. Jai enjoys the color gray and his favorite film is "Step Brothers." He despises spiders and gets the shivers whenever he sees one!
Professional Life and Career
Since September 2011, he has been a member of the Janoskians with four other friends: Luke Brooks, Beau Brooks, and Daniel Sahyounie, who have been posting comedy videos on YouTube. Furthermore, the term 'Janoskians' means 'Yet Another Name Of Silly Kids In Another Nation Skip.' In 2011, they released their first video. He and his band have appeared in a video by Faydee, a well-known Australian artist.
When he and his twin were eight years old, they appeared in a Japanese commercial. However, their spontaneous public pranks have garnered the most attention and millions of views, with their funny parodies becoming the most popular.
Jai is currently a member of several YouTube channels. He and his twin brother, Luke, run his other achannel, TwinTalkTime. The channel has amassed tens of thousands of followers. He is also a singer and songwriter, in addition to his other interests.
His band, the 'Janoskians,' has released a number of songs since signing a deal with Sony Music in 2012. They released their EP, 'Will U Love Me,' in 2015. 'Set This World on Fire,' 'True Girl Eats Cake,' 'That's What She Said,' and others are among their hit songs. They also attended the Nickelodeon Kids Choice Awards, which were held for the 28th time. They have their own clothing line named 'Dirty Pig Clothing' as a young entrepreneur.
Personal Experiences
Jai Brooks and his twin brother Luke began a competition in July 2012 to see who could get Ariana Grande's attention. Jai sent her a tweet and made her a video explaining why she should date him. The brothers then created the #JaiVsLukeForAriana hashtag, which quickly became popular on Twitter. Joan Grande, Ariana Grande's mother, followed the hashtag and began watching Janoskian videos on YouTube. She thought the boys were hilarious, so she showed Ariana the videos and asked her to answer to one of them.
Ariana sent Jai her phone number via Twitter because she suspected Luke wasn't being sincere. They began exchanging a number of tweets. By texting and video chatting every day, Jai and Ariana got to know each other very well. They started dating on October 7, 2012, and on that day, they tweeted that they loved each other. On December 30, 2012, Jai flew out to see Ariana for the first time, and they actually met in person for the first time.
They kissed right away when Ariana emerged. Ariana's brother Frankie shared a video of Jai and Ariana's first meeting on YouTube, in which Jai tripped as he entered the room. This video, however, was a joke, and they had met the day before. For the next two weeks, Jai remained in New York and spent all of his time with Ariana. Jai returned to Australia on January 11th. There's even a video of them kissing at the airport and saying their goodbyes.
They had a BREAKDOWN!
Jai paid Ariana a surprise visit on the set of her music video for "The Way" in February. Despite the fact that the kiss was totally guided, Mac Miller and Ariana kissed in the video. Around that time, they briefly split up, and many people assumed it was because of the kiss. Jai, on the other hand, said he wasn't offended and that he knew it was just for the sake of the video. They reconciled a few weeks later, claiming the split was due to long distance.
Ariana and Jai's relationship remained strong for the next five months. Jai traveled to America frequently to see Ariana, and the two spent a lot of time together. Both of them shared photos of themselves with each other on Instagram and Twitter, expressing their love for one another.
Separation and accusations
It was announced in early August that Ariana would release a song called "Almost Is Never Enough," which would feature English singer Nathan Sykes. They spent a growing amount of time together as they shot the music video and performed the song on several occasions. Jai shared a photo on Instagram on August 6 to commemorate his ten-month anniversary with Ariana. The caption was as follows:
"This girl has a special place in my heart. There aren't many long-distance partnerships that work out, but ours does. We are not only each other's boyfriends and girlfriends, but also best friends. Even though we live on opposite sides of the planet, we are both deeply in love with each other. I am the luckiest man on the planet, and I have really met a one-of-a-kind. I've had my heart set on you for a long time, and I'm honored to be a part of your life. Thank you for the lifelong memories, I adore you, and I wish you a happy 10th birthday @arianagrande p.s. I apologize for being so mushy."
Jariana seemed to be still going high, but Ariana announced that she and Jai had broken up a week later. Ariana later disclosed in an interview with Complex that Jai had broken up with her over a text message on the opening night of The Listening Sessions, right before she was about to perform.
Ariana and Nathan are a couple.
When the music video for "Almost Is Never Enough" was released, some fans speculated that Ariana and Nathan were dating. They didn't outright deny it, instead stating that they were young and figuring things out, but that if anything came up, they would inform their fans. The rumors grew louder over the next month, with Nathan and Ariana dropping hints all over the place. In late September, they finally announced their relationship.
Jai accused Ariana of cheating on him with Nathan on October 7, 2013, which was supposed to be their one-year anniversary. He started a TwitLonger with the words "Yes, I was cheated on." Yes, it stinks. Yes, I was abandoned by another man."
Ariana has dismissed the rumors, calling them "absolutely baseless, hurtful, and shocking," but she needs to move on and forget about them. Jai was only using her to get his "fifteen minutes of fame," she said. For the rest of the year, there was no sign of Jai and Ariana chatting. Ariana and Nathan, on the other hand, dated until December before calling it quits.
Final separation and reconciliation
Many signs of Jai and Ariana getting back together emerged in early 2014. They re-followed each other on Twitter and Instagram, and Ariana added Jai's brother to her list of followers. On March 24, 2014, Ariana posted an Instagram video in which many fans seemed to hear Jai laughing. They were frequently tweeting love emojis at the same time, and they were indirectly tweeting each other.
Ariana said in an interview on April 29, 2014 that she loves a bad guy, someone who is funny and has a lot of tattoos. Both of these descriptions apply to Jai. She went on to say that she tried for a short time to date a good boy but that it didn't work out. Most possibly, this is referring to Nathan Sykes.
On May 1, 2014, Ariana and Jai were caught kissing after Ariana performed at the iHeartRadio Music Awards, confirming their relationship. They both posted on Instagram the next day, within forty minutes of each other, that they were listening to Elvis Presley.
Body Dimensions
Jai's body is muscular and in good shape. He is 5 feet 8 inches tall and weighs about 72 kilograms. In addition, he has brown eyes and dark brown hair. There is no other information about his body measurements available.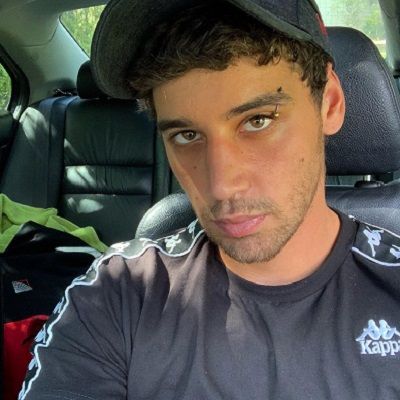 Net Worth and Social Media
Jai has a large number of fans and is involved on various social networking sites. His Instagram account now has over 901 thousand followers. In addition, his Twitter account has over 1.57 million followers. He's still on Facebook, where he has over 152K followers. He can also be found on Snapchat, where he goes by the handle '@ jaibroo95.' In addition, his TikTok account has more than 1550 followers and 6068 likes.
Similarly, their YouTube channel, dubbed "Janoskians," has over 2.65 million subscribers. JanoVlog, their vlogging site, has over 652K subscribers. The YouTube channel 'Janoskian' has over 69.8K subscribers. Another YouTube channel, dubbed "@daresundays," has over 951K subscribers. Similarly, the channel 'TwinTalkTime' of the twin brothers has over 438K subscribers.
Quick Facts
| | |
| --- | --- |
| Full Name: | Jai Brooks |
| Born Date: | 03 May 1995 |
| Age: | 27 years |
| Horoscope: | Taurus |
| Lucky Number: | 5 |
| Lucky Stone: | Emerald |
| Lucky Color: | Green |
| Best Match for Marriage: | Virgo, Cancer, Capricorn |
| Gender: | Male |
| Profession: | YouTuber, Instagram Star, singer |
| Country: | Australia |
| Height: | 5 feet 8 inches (1.73m) |
| Marital Status: | single |
| Break Up | Ariana Grande |
| Net Worth | $1 Million – $5 Million |
| Eye Color | Brown |
| Hair Color | Dark Brown |
| Birth Place | Melbourne |
| Nationality | Australian |
| Mother | Gina Brooks |
| Siblings | two (Luke and Beau Brooks) |
| Facebook | Jai Brooks Facebook |
| Twitter | Jai Brooks Twitter |
| Youtube | Jai Brooks Youtube |
| Instagram | Jai Brooks Instagram |
| Personal Web | Jai Brooks Personal Web |