Hwang Chul Soon is an actor, bodybuilder, entertainer, trainer, and model. Chul Soon was born in Seoul, South Korea,
Early Years
Hwang Chul Soon is a 37-year-old actor born on September 1, 1983. Chul Soon was born in Seoul, South Korea, and is a Virgo by birth. In his native language, his name is written as. There are no confirmed details about Chul Soon's parents, siblings, or relatives. Hwang has likewise remained silent about his school experiences.
Professional Life and Career
Hwang Chul Soon is a well-known actor, bodybuilder, fitness model, and celebrity personal trainer. Hwang has been dubbed "Asian Arnold." His remarkable body, which includes carved 8-pack abs and an old-school, classic physique style, has made him famous. Hwang has been a celebrity in his nation and internationally when he first began competing in 2009.
Hwang Chu Soon has won a number of bodybuilding competitions in the United States and Korea. He has also appeared in advertisements and television shows.
The Starting Point
Hwang Chul Soon was frequently mocked for his malnourished appearance. This eventually became his incentive to hit the gym and begin his road to bodybuilding achievement. When he was 20 years old, he began his training career.
Chul Soon explained why he got into fitness in the first place.
"At the age of 20, I had a very slim body and weighed only 57 kilograms (125lb). Disrespect was shown to me. When I returned merchandise to a store, assisted someone, or spoke with strangers, people looked down on me."
Hwang used to do 3000 crunches a day when he first started exercising. He did it on a near-daily basis. On certain days, Hwang's training sessions would run more than two or three hours. The bodybuilder later recognized that this method of training wasn't the most effective for muscular growth. Hwang Chul Soon began following a disciplined fitness routine and focusing on his diet as a result.
Hwang couldn't recognize himself three years later. He discovered that his body was huge, proportional, and shredded. Hwang eventually began working as a personal trainer in one of Seoul's gyms after several years of weightlifting expertise.
Later, in 2009, Hwang Chul Soon took his fitness career to the next level. He began competing in bodybuilding competitions. The 2009 Musclemania World Championships was Hwang's first competition. He came in second place in the lightweight category in this competition.
More information
Hwang began competing on a regular basis after that. With time, he gained more size and improved his conditioning. Hwang Chul Soon then sculpted an amazing figure at the end of 2010, winning first place in the 2010 Musclemania World at Fitness America Weekend contest.
The bodybuilder has since gone on to become a celebrity fitness trainer. He's also been in a number of advertisements, periodicals, and TV shows in Korea and the United States. Hwang describes his current progress as follows:
"People treat me with more respect now that I'm a lot bigger. They refer to me as the 'Asian Sensation,' 'Asian Pride,' and 'Asian Arnold.'
Hwang's Nutrition and Training
Hwang Chul Soon focuses primarily on compound motions that engage many muscular groups. Pull-ups, bench presses, deadlifts, and squats are a few of them. The bodybuilder also believes that just these four exercises may be sufficient for achieving a muscular physique.
Despite this, Hwang continues to incorporate isolated exercises within his training. Hwang uses isolation exercises to develop his muscles and even out any strength or size imbalances he may have. Dumbbell flys, cable flies, and wide-grip lat pulldowns are examples of isolation exercises.
In addition, the Korean bodybuilder adheres to a stringent diet. His diet consists of a moderate amount of fat, a moderate amount of carbohydrates, and a significant amount of protein. Hwang eats carbohydrates primarily in the morning and after an exercise. Throughout the day, he consumes protein and lipids. He enjoys taking them in the evenings before going to bed.
More information
Bananas, whey protein shakes, chicken, brown rice, and avocados are among Hwang's favorite foods and beverages. In addition, the Korean bodybuilder eats every three hours. Each of his meals is about half a pound in weight.
Status of the Relationship
Yeona is the wife of Hwang Chul Soon. In early February 2020, the pair exchanged vows. On February 9, 2020, Hwang posted the first Instagram post about his wedding. His wife, on the other hand, revealed the specifics of their wedding in an Instagram post on February 8, 2020. At 5 p.m., the fitness couple married at the Shilla Hotel in Seoul. Furthermore, the couple has a kid named Riu, who is 8 months old.
Body Dimensions
Hwang Chul Soon is around 5 feet 10 inches tall, or 177.5 centimeters, and weighs between 215 and 225 pounds, or 93 and 102.1 kg. Hwang's chest, waist, and hip measurements are 44-35-37 inches, respectively, and his biceps are 16.5 inches. Similarly, Hwang has dark brown eyes and silky black hair.
Net Worth and Social Media
Hwang Chul Soon started Twitter in October 2014 and now has over 2.9k followers on his @HwangChulSoon account. On Instagram, he's known as @chul soon. While creating this biography in early 2021, this account has exactly 2,838 posts shared and over 1.6 million followers.
Similarly, on November 28, 2011, the bodybuilder launched his official Youtube channel. His YouTube account, "CHUL SOON HWANG," has over 82.2 million views and 412K followers. On Facebook, he has over 2.3 million fans who are following his adventure. Moving on, Hwang Chul Soon has an estimated net worth of $3.7 million.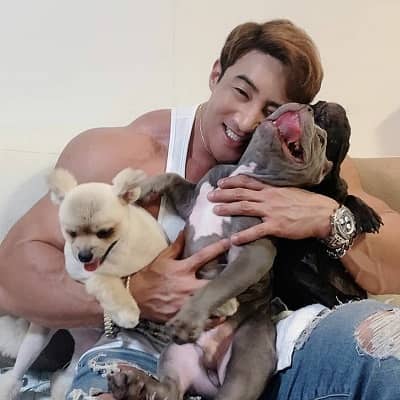 Quick Facts
| | |
| --- | --- |
| Full Name: | Chul Soon Hwang |
| Born Date: | 01 Sep, 1983 |
| Age: | 37 years |
| Horoscope: | Virgo |
| Lucky Number: | 4 |
| Lucky Stone: | Sapphire |
| Lucky Color: | Green |
| Best Match for Marriage: | Taurus, Capricorn |
| Gender: | Male |
| Profession: | Actor, Bodybuilder, Entertainer, Trainer, Model |
| Country: | South Korea |
| Height: | 5 feet 10 inches (1.78m) |
| Marital Status: | married |
| Married Date: | February 8, 2020 |
| Wife | Yeona |
| Net Worth | $3.7 million |
| Eye Color | Dark Brown |
| Hair Color | Black |
| Body Size | chest-waist-hip: 44-35-37 inches; biceps: 16.5 inches |
| Birth Place | Seoul |
| Nationality | South Korean |
| Ethnicity | Asian (South-Korean) |
| Religion | Christianity |
| Kids | One son |
| Facebook | Chul Soon Hwang Facebook |
| Twitter | Chul Soon Hwang Twitter |
| Youtube | Chul Soon Hwang Youtube |
| Instagram | Chul Soon Hwang Instagram |
| Personal Web | Chul Soon Hwang Personal Web |