Gabriella Demartino is a Stylehaul collaborator and a fashion and beauty YouTube vlogger. Her videos have been featured on AwesomenessTV.
Wiki, Bio, Age,  Family, Siblings, Childhood & Education
Who is Gabriella Demartino? Gabriella Demartino is a 25-year-old actress who was born on May 5, 1995. Gabriella Nelida DeMartino is her full name. Her hometown is Bethlehem, Pennsylvania, but she later relocated to Los Angeles. Gabriella has three siblings: Niki, Alex, and Anthony, her brother. She and her twin sister, Niki, are identical twins. Jeffrey and Nelida Garcia-DeMartino are her parents. Gabi was born a few minutes after Niki, making her the younger of the two twins.
Her brothers and sisters are also YouTubers. Her parents are both dentists, and they share a practice in Phillipsburg. They are also of Cuban origin. Gabi and her twin Niki both attended Notre Dame High School before enrolling at DeSales University. Gabi originally planned to major in musical theatre, but she later switched to communications.
Gabriella Demartino's Height, Weight & Body Measurement
What is Gabriella Demartino's Height? Gabriella Demartino is 5 feet 2 inches tall and weighs about 49 kilograms. Aside from that, there are no specifics about her other body measurements. Her hair is a dark brown color, and her eyes are also brown.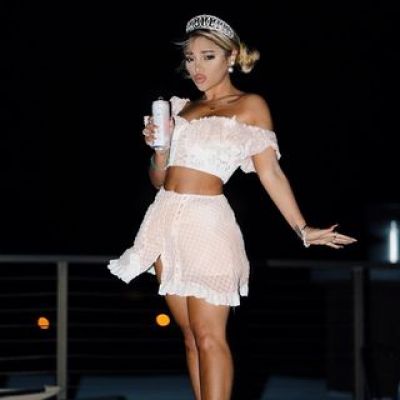 Gabriella Demartino's Profession & Career
She is a vlogger who specializes in fashion and beauty, as well as a singer, songwriter, actress, and screenwriter. She and her twin sister Niki started their YouTube channel @00RemakeGirls in 2010 with their older sister Alex DeMartino. Following the success of their first channel, the twins decided to start a new one, which they named the @nikiandgabibeauty channel at first. They later changed their name to "Niki and Gabi."
Gabriella launched her own YouTube channel, "Fancy Vlogs By Gab," in July 2015. Her debut song, Ever After, helped her break into the music industry in 2016. Gabriella then signed with Roc Nation in January 2020, and her debut album is due to be released in Spring 2020.
Gabriella started her first YouTube channel, 00RemakeGirls, with her twin and sister in the early 2010s. Demi Lovato-inspired curls were their first video on the channel. People were enthralled by their video and began demanding more. Gabi had also always enjoyed watching YouTube videos during her summer vacation.
She had no idea, however, that she would become so well-known on YouTube. After high school, the twins gradually began to make more videos. They went to college while still maintaining their YouTube channel.
Addition
Gabriella decided to start her own YouTube channel as their passion for the platform grew. She updates her fans on her travels, shopping hauls, and everyday routine on her solo page. If you think Gabi is just a fashion expert, you'll be shocked to hear that she's also a talented singer who collaborates with her sister on song lyrics.
The multi-talented ladies have just released their first music video, named First. They also take part in live performances. Gabi has also signed endorsement deals with a number of companies. Gabriella, being the beautiful beauty that she is, is a normal girl who enjoys shopping, vacationing, and looking her best.
She also enjoys having her sisters and friends join her on her adventures. Gabi really enjoys singing, and when she is not filming videos, she is most likely writing lyrics and writing her own songs. In addition, the young vlogger hopes to one day introduce her own makeup collection.
Gabriella released a live cover of Maroon 5's "Wipes Your Eyes" on 00RemakeGirls on December 9, 2012. Gabi and her then-boyfriend Brandon started a new YouTube channel on July 21, 2013. On July 22, 2013, they released their first video, YouTube welcomes Gabi and Brandon.
Gabriella posted a live cover of Ariana Grande's Honeymoon Avenue on 00RemakeGirls on November 3, 2013. In 00RemakeGirls, she released a cover of The Phantom Of The Opera on January 4, 2014. Then, on November 25, 2014, she posted a cover of Ariana Grande's Love Me Harder on 00RemakeGirls, featuring Blaise Delfino.
More
On April 19, 2015, Gabriella released a cover of Ariana Grande's Just a Little Bit of Your Heart on 00RemakeGirls. Similarly, the last uploaded to 00RemakeGirls on July 2, 2015. Selena Gomez and her best friend Allie Bennicas collaborated on a music video remake of Selena Gomez's Good For You.
Gabriella revealed on January 16, 2020, that she had signed with Roc Nation, a record label based in the United States, and that her debut studio album will be released in spring 2020. On the same day, she announced that she had chosen to expand the album with new songs.
Gabriella will then embark on a tour of the United States and Europe in the summer of 2020, dubbed the Fancy Vlogs Tour, alongside Niki, who will be touring new music as well. Fancy Friends, the first single from her debut album, was supposed to be released in April 2020.
Furthermore, Ariana Grande asked Gabi to appear in one of her music videos not just because they look alike, but also because there had been some controversy between Gabi and Ariana's fans only a few months prior. Ariana decided to surprise her fans and show that the two of them were not in competition.
Gabriella Demartino's Boyfriend, Marriage & Relationship
Who is Gabriella Demartino's Boyfriend? Gabi's first boyfriend was while she was in sixth grade. Then, just before Freshman Year, she had an on-again, off-again relationship with a guy for two years, but he dumped her for one of her colleagues. Gabi started dating Brandon Grube in October 2010, while still a student at Notre Dame High School. They had met over the summer, two months before the start of the new school year.
Brandon invited Gabi to his Senior Homecoming and gave her a stuffed dog as a gift. They shared their first kiss while waiting for the bus outside his locker. Because of their age gap, Gabi had to ask her parents for permission before she could consider Brandon as her boyfriend.
Gabi was wary of Brandon by February 2011 and worried that he was cheating on her, but she didn't say anything for fear of losing him. In June, however, she discovered that he had indeed cheated on her. Brandon broke up with Gabi around the same year's Christmas break.
He began dating Gabi again after the weekend. Gabi's parents bought Brandon a MacBook in April of Gabi's freshman year of college, and Gabi was browsing through his Skype and discovered that he had had another girlfriend for 9 months, since August. Brandon then broke up with Gabi for the second time.
Gabi met Collin Vogt in the summer of 2015 while still in a relationship with Brandon. Gabi was dating a guy she calls Joey when she was at college while on a break from Brandon. He's the guy who broke Gabi's heart, according to her (they broke up in early July 2015).
More
Gabi began dating Collin Vogt on July 25, 2015. They then moved in together in a cottage in Bethlehem, Pennsylvania, in late 2018. The cottage is known as The Castaway Cottage. They went to Bermuda for their fourth wedding anniversary and intend to build a second home there in the future. Gabi and Collin want to start a family together.
Gabi revealed in her vlog "I threw up during an expensive massage," which was released on August 9, 2019, that she and Collin plan to raise their children in Bermuda. She also revealed in her next vlog that she had moved out of LA's "Cinderella Cottage" because she only visited it a few times a year. She said that she and Collin intend to buy a second home in Bermuda in about a year.
Gabi posted a Q&A video with Collin on February 10, 2020, in which he announced that he would propose to Gabi very soon. They also mentioned that if their children were girls, they would name them Elowyn and Clara and if they were boys, Eden and River. They also announced that they will be renting a house in Bermuda for a month in June or July 2020 and that they want to get married on an island, have a cold honeymoon, and see the Northern Lights on their honeymoon.
Gabriella Demartino's Social Media(Facebook, Twitter, Instagram)
Gabriella Demartino is a social media personality who started following Twitter in November 2011 and now has 102 million followers. Her Instagram account has 4.4 million followers, and her Youtube channel has 3.23 million subscribers.
Gabriella Demartino's Income And Net Worth
How much is Gabriella Demartino's Income? Gabriella's net worth is estimated to be around $1.5 million. Her income comes from a variety of sources, including music, Youtube videos, and brand endorsements, to name a few.
Quicks Facts
| | |
| --- | --- |
| Full Name | Gabriella Demartino |
| Born Date | 05 May 1995 |
| Age | 26 years |
| Horoscope | Taurus |
| Lucky Number | 7 |
| Lucky Stone | Emerald |
| Lucky Color | Green |
| Best Match for Marriage | Virgo, Cancer, Capricorn |
| Gender | Female |
| Profession | Youtuber, Singer, Songwriter, Screenwriter |
| Country | USA |
| Height | 5 feet 2 inches (1.57m) |
| Weight | 49 kg |
| Marital Status | in-relation |
| Dating | Collin Vogt |
| Net Worth | $1.5 million |
| Eye Color | Brown |
| Hair Color | Dark Brown |
| Birth Place | Bethlehem, Pennsylvania |
| Nationality | American |
| Ethnicity | Cuban |
| Education | DeSales University (Communications) |
| Father | Jeffrey DeMartino |
| Mother | Nelida Garcia-DeMartino |
| Siblings | Three (Niki, Alex, and Anthony) |
| Twitter | Gabriella Demartino Twitter |
| Youtube | Gabriella Demartino Youtube |
| Instagram | Gabriella Demartino Instagram |
| Personal Web | Gabriella Demartino Personal Web |
| Brands | N/A |
| Hobbies | N/A |