El Rubius is a social media sensation in Spain. El Rubius is the most popular YouTuber, and he is recognized for being a gamer and a comedian.
Childhood and Early Years
El Rubius was born in Malaga, Spain, on February 13, 1990. Similarly, as of 2021, he is 31 years old and his zodiac sign is Aquarius. His mother is Norwegian and his father is Spanish, although their names are unknown. He was born in Spain, but due to his parents' divorce, he frequently moved to Bergen, Norway. Apart from that, he has made no mention of his family or siblings. He is currently residing in his own apartment in Madrid, Spain.
Similarly, he shares his home with a cat who he considers a member of his family. His pet kitty is more smaller than other cats, yet she always manages to find a way to be near him! He met his best friend Miguel over the internet when he was a teenager. And they've been like two peas in a pod ever since. Both have revolutionized the social realm with ground-breaking concepts. His ethnicity is uncertain, despite the fact that he is of Spanish and Norwegian descent.
After settling down permanently in Spain, he participated in animation and 3D modeling classes. He used to do a lot of summer jobs when he was in school, which taught him to respect all types of labor. He can also communicate in Norwegian, Spanish, and English. Aside from that, his favorite color is green, and his favorite delicacy is chocolate ice cream.
Occupational life
The well-known Youtuber began his profession when he was only 16 years old. He had met Miguel Angel there, and the two had struck up a friendship right away, with Miguel encouraging him to start his own YouTube channel. Both of them had a great time gaming together and decided to share their joy with the rest of the world. He released his first video under the title of his first channel, ElRubius, in 2006. In the year 2011, fate smiled on him after he launched his second YouTube channel, ElRubiusOMG, to which he dedicated his entire time.
Similarly, he had also released a 'The Elder ScrollsV: Skyrim' gameplay video, which was very popular. The video was uploaded in 2013, and he now has over one million subscribers. The next year, he published his first book, 'The Troll Book,' in which a fictional character named 'Rubio' guides the reader through spontaneous interactive challenges. His book was named best seller at the Madrid Book Fair the following year.
In the year 2015, he released his first comic book, titled 'ElRubius: Virtual Hero,' which is a superhero book influenced by videogames. Then, in 2016, he released the second installment of the book, titled 'Virtual Hero 2: The Impossible Tower.' He even appeared in Santiago Segura's film "Torrente 5" as a guest star.
What is it about Ruben/El Rubius that makes him so unique?
His videos are simple yet distinct, and he has fantastic comic timing and a terrific sense of humor. He had developed a genre that set him apart from the competition, making his stuff unique. The popular YouTuber is lots of energy and has been successful in attracting a young audience to his channel. He, too, is open and honest, and he understands what he's doing.
The nicest thing about him is that he has never been concerned with quantity, preferring instead to create videos with excellent content quality. He has currently overcome all linguistic barriers, with people from all around the world watching his videos.
Net Worth and Awards
El Rubius' net worth has not been revealed. His principal source of revenue, though, is YouTube. His net worth is $7 million, according to celebrity net worth. His yearly pay is also being reconsidered. In terms of accolades and accomplishments, El Rubius was named "YouTuber of the Year" at the 1st Play Awards ceremony held in Spain.
When YouTuber Frank Norton posted a video, El Rubius argued that his YouTube channel cared less about its viewers and more about money.
Private life
He had been dating model Irina Isasia since 2016, according to Wikipedia. However, it has been established that neither of them has shared a photo of themselves as a pair on Instagram. He hasn't dated anyone in his past, according to his records. He is solely concerned with his work and family.
Controversy
Aside from that, YouTuber Frank Norton posted a video in which El Rubius said that his YouTube channel was more concerned with money than with its viewers. The film, however, was a hoax, and rumors were put to rest when El Rubius took to Twitter to deny being a part of it.
Social Media and Body Measurement
In terms of his personality, he is enormous and has rightfully achieved so much fame that the world is still unaware of many elements of his existence. He stands 6 feet 3 inches tall and weighs 80 kilograms. Similarly, he has blonde hair and black eyes. Other details on his physical dimensions, such as chest, waist, and hip measures, dress size, and shoe size, are unavailable.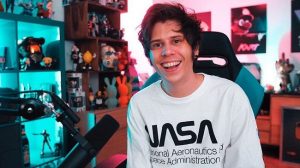 El Rubius can be found on a variety of social media platforms. He also has a Facebook following of almost 7 million people. El Rubius has more than 12.9 million Instagram followers, 38.6 million YouTube subscribers, and 13.8 million Twitter followers. Aside from that, his most recent Minecraft video had 4.5 million views.
Quick Facts