DerekTrendz is a young social media celebrity from the United States. DerekTrendz began his career as a Tiktok content creator and has since expanded to include Youtube and Instagram.
Childhood and Early Years
DerekTrendz is a 17-year-old rapper who was born on July 26, 2003. Derek has a younger sister, Ahiella, who is a prominent TikTok personality under the username @ahiellatrendz and on Snapchat as @aborgen87. Aside from that, Derek has remained tight-lipped about his parents and other family members. His girlfriend, on the other hand, has been featured in his Instagram posts.
DerekTrendz is also a resident of the United States, despite the lack of knowledge about his birthplace. Similarly, he now lives in Los Angeles, California. DerekTrendz also comes from a Dominican-Black-Italian cultural background.
DerekTrendz hasn't said much about his educational background. However, given his age, we can presume Derek is a high school student unless he decides to take a break from school or drop out entirely to concentrate on his professional goals. DerekTrendz has played basketball for his high school team, but he has not stated which institution he attends or attended.
Professional Life and Career
DerekTrendz is a professional social media personality. He is well-known as a comedic personality who rose to prominence on TikTok. In his Tiktok account, he has over 2.3 million followers, and he is known as "DerekTrendz" on all social media sites.
DerekTrendz is managed by Artsace aka @artsacemgmt, who also manages Trent Lehman, Corey Campbell, Fred DeGrace, Kobe Morris, Mathew Valenzuela, Mike, Jacob Green, Ethan Fair, Sam Aldred, Kahlil Beth, and Vallyk, among others.
DerekTrendz's rise to fame as a social media influencer came out of nowhere. In a short period of time, he amassed a large number of followers and fans. Derek is a TikTok star who is well-known for his lip-syncing and dance videos, as well as the humorous short videos he uploads to his website.
DerekTrendz also rose to prominence on social media in the middle to late part of 2019. Derek has also worked as a representative for TC Social Club and sold his own products through Stock Drip Store. Derek also used Roddy Ricch's viral song "The Box" in his video "Do angles matter?"
DerekTrendz also has a YouTube channel of the same name. On November 25, 2019, he built it. As of July 2020, this channel had received over 562k views and 77.6K subscribers. My BEST FRIEND Does My Makeup CHALLENGE (FUNNY) | DerekTrendz, My BEST FRIEND Does My Makeup CHALLENGE (FUNNY) | DerekTrendz, and My BEST FRIEND Does My Makeup CHALLENGE (FUNNY) | DerekTrendz are the three videos he Do you think I cheated? DerekTrendz has over 120k, 216.8k, and 224.8k views on his videos *EMOTIONAL* (Instagram Q&A) | DerekTrendz and NEVER HAVE I EVER CHALLENGE w/ Hot Takis **Gone Too Far** | DerekTrendz.
DerekTrendz also posted the first video on March 24, 2020, and the most recent one, as of July 2020, is the one from June 28, 2020, in which his best friend does his makeup.
Info on Tiktok
He's worked with a number of other Tiktok content creators. @itsmorrisk (Morris King), @zayy fendiiiiiiiiiiiiiiiiiiiiiiiiiiiiiiiiiiiiiii (ZAYYWAYY). Many other accounts include @jaden cradle (Jaden cradle), @kbreeezo (Kobe), @jabez (Jabez), @mattiapolibio (Mattia), @kamrin houser24 (Kamrinhouser24), and @ahiellatrendz (Ahiella).
Derek has also performed split-screen duets with @the0nlygigiii (Gigi) to the original sound she was brainwashed by me… @charlidamelio (Charli D'Amelio) to the original sound Sweet and Salty by @goalsounds; @stcrvds (Ayesha) to the original sound Play Date by Melanie Martinez; and @itspeytonbabyy (Peyton) to the original sound To much love by @bxtchtunezz
DerekTrendz has also done split-screen duets with other Tiktok content creators including @dejuane.mccoy (Dejuane.mccoy) and @slimedupmike (Mike) to the original sound Right Back Where We Started From by @minecrafter2011; with @larrayeeee (LARRAY) and @acsketch (Acelya (d) among many others to the original sound Right Back
DerekTrendz's net worth is estimated to be between $1 million and $5 million dollars. He could make money from his Tiktok and Youtube videos, brand endorsements, collaborations, and other sources of income.
Status of the Relationship
There is no confirmed information as to whether DerekTrendz is currently single or in a romantic relationship. It's possible that Derek is keeping his relationship status and love affairs secret from the public eye. It's also possible that he's currently single and concentrating on advancing his acting career.
Derek, on the other hand, hasn't said anything about the situation. DerekTrendz has also avoided posting anything on social media that could hint at his current relationships or affairs.
Furthermore, DerekTrendz has kept a clean public profile free of rumors, scandals, and controversies that might jeopardize his professional and personal lives. DerekTrendz, on the other hand, would undoubtedly attract many lovers in the future due to her appearance, handsomeness, talent, humor, and charms.
Social Media and Body Measurements
DerekTrendz is a tall man, standing 5 feet 11 inches tall. Apart from that, there is no knowledge available about his other body measurements. This includes his weight, chest, waist, and hip measurements, as well as his biceps, dress size, and shoe size. Derek, too, has lovely hazel eyes and dark brown curly hair.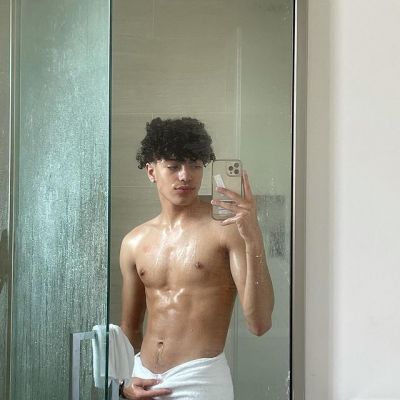 DerekTrendz's Instagram handle is @derektrendz, and his Twitter handle is @derektrendz. At the time of writing this biography, his account had 77 posts shared and 579k followers. He goes by the handle @derektrendz on Tiktok, where he has 2.3 million followers and 86.5 million likes. As a result, he is now a crown checked Tiktok customer. On Snapchat, he's known as @DerekTrendz.
DerekTrendz also has a YouTube channel called "Derek Trendz." He started this channel on November 25, 2019, and it currently has over 562k views and 77.6K subscribers. P.O. Box Derek Trendz, 209 S Stephanie St, Ste B 304 Henderson, NV 89012 is where we can send fan mail. [email protected] is another way to reach him.
Quick Facts
| | |
| --- | --- |
| Full Name: | Derek Trendz |
| Born Date: | 26 Jul, 2003 |
| Age: | 17 years |
| Horoscope: | Leo |
| Lucky Number: | 2 |
| Lucky Stone: | Ruby |
| Lucky Color: | Gold |
| Best Match for Marriage: | Sagittarius, Gemini, Aries |
| Gender: | Male |
| Profession: | Tiktok star, Youtuber, Instagram star, Social media personality |
| Country: | USA |
| Height: | 5 feet 11 inches (1.80m) |
| Marital Status: | single |
| Net Worth | $1 million – $5 million |
| Eye Color | Hazel |
| Hair Color | Dark Brown |
| Nationality | American |
| Ethnicity | Dominican-Black-Italian descent |
| Siblings | One (sister Ahiella) |
| Youtube | Derek Trendz Youtube |
| Instagram | Derek Trendz Instagram |