Deji Olatunji is an English YouTuber and Gamer who specializes in Comedy Shorts. Deji Olatunji is well-known for his work as a YouTuber, with videos relating to satire, gaming, and family pranks on his website.
Childhood and Early Years
As of 2019, Deji Olatunji is 25 years old. He was born on December 9, 1996, in the English town of Watford. Jide Olatunji and Yinka Olatunji, both English, were his parents when he was born and raised. Sagittarius is his zodiac sign. He grew up alongside his brother, Olajide Olatunji, a gamer and YouTube personality with a large following on YouTube.
Furthermore, he is of English origin and British nationality. He and his parents live in Peterborough. In addition, he is allergic to nuts. He suffers from asthma, and Yinka keeps his inhaler in her purse so he can use it whenever he needs it. Deji was in a car accident on September 3, 2016, with one of his friends as a passenger, resulting in a shoulder and arm injury. His friend was unharmed.
Deji is also a self-described "nerd" who can be aggressive if anyone wakes him up while he is sleeping. On August 26, 2018, he changed his YouTube name from ComedyShortsGamer to Deji because he no longer does gaming.
Workplace Environment
In terms of Deji Olatunji's professional life, he began his career as a YouTuber with the aid of his brother KSI, with a channel dedicated to the game Halo 3. He began to gain attention, which resulted in a rapid rise in the number of people watching his channel. He makes videos that combine humor, gaming, and family pranks in a special way. Aside from that, he is well-known for being the younger brother of eminent YouTuber KSI, with whom he has collaborated on a number of videos. In addition, he has posted challenges and reaction videos.
Deji began by uploading gaming videos to YouTube, such as FIFA. He also used to make short sketches with his brother and father, using a parody style, but by 2016, he had stopped uploading these types of videos. Deji has created and continues to create several challenges and prank videos, as well as beginning to release music videos in 2017.
Deji also gained a lot of notoriety as a result of his appearances in his brother KSI's videos. Deji recently purchased his own home, where he lives with his mother and father, who often appear in Deji's videos. Despite his brother's and parents' pleas, Deji has declined to leave home and become self-sufficient.
Deji's father often competes with Deji in challenge videos or reacts to viral videos with her. He also assists Deji in the production of his films. Deji has been a long-time subscriber to his brother's YouTube channel, and he appears in many of his posts.
Dissension
Deji vs. Randolph
Randolph was asked which YouTube channel he thought was dead in a Sidemen Sunday video called SIDEMEN FAMILY FORTUNES. Deji was his answer. Deji then replied by roasting Randolph for being a slave to KSI and doing everything for him, as well as insulting Randoph's wife, in a video.
Randolph then released a video claiming that it was all a joke and a diss track called "Manchild" directed at Deji. Deji retaliated with his own diss track, "RAN." However, in the video, while discussing how JJ paid for Randolph's wedding, Deji leaked JJ's bank account details, for which JJ chastised him and sparked the KSI vs Deji feud.
Randolph then followed up with "Victory Speech," a second diss track. Deji's reaction to the track led to a new feud with JJ, so his relationship with Randolph is likely to have calmed down. Randolph later released a video explaining that the beef had gotten out of control and that he was no longer going to listen to Deji's cries for publicity.
Beef Brother
When KSI responded to both Randolph and Deji's diss track and reiterated the truth of Randolph's disses while calling out Deji and his parents for revealing his private bank account, the beef between Deji and Randolph morphed into a brother beef between KSI and Deji.
Deji then replied with a video, claiming that KSI had taken Randolph's side and that the beef was an unfair 6 vs 1 battle. Deji went on to say that he had never gotten a girl pregnant (something Randolph mentioned in his second diss track), but then added that JJ had, escalating the tension between them even further. The feud erupted when Deji tweeted that JJ had blocked him, and JJ responded by tweeting, "get rid of negative delusional people, even if they are relatives," which was quickly deleted.
Deji then went on to make a full video criticizing his brother for prioritizing his friends over his family and accusing him of having a god complex. JJ responded by tweeting his love for his brother and making a video apologizing for his behavior. Deji then released "Unforgivable," a massive diss track featuring Jallow, Dax, and Crypt.
Some of the disses were directed at JJ for getting a girl pregnant, despite the fact that they were recorded before JJ's video apologizing for those actions, and Deji posted the diss track to keep things equal for the people featured in the diss track. JJ's apologetic tweets and video were quickly taken down. He appeared on Logan Paul's "Impaulsive" podcast to clarify the situation, calling JJ manipulative and his mates (The Sidemen) phonies who just have JJ's back on the surface.
The beef continues.
KSI came to visit the family on Christmas Day, which culminated in a clash between him and Deji. He allegedly kicked KSI out of the house, while his parents stood by and watched, with Deji threatening to call the cops if he didn't leave. KSI threatened to break Deji's machine and force him to delete the diss track, according to Deji's tweet.
KSI allegedly assaulted their mother and insulted both of their parents, he later said. Later that day, Deji released another video titled "My Bro," in which he called him a bully, manipulative, and attacked him, causing their parents to weep. He later removed the video, and it's been suggested that he did so due to a drop in subscriber numbers.
As a result of his brother's drama, Deji lost thousands of subscribers as a result of him posting more videos about the situation. On January 6, 2019, he apologized to KSI for his behavior and removed the "Unforgivable" diss track, putting an end to the feud.
The beef between the two was reignited on May 2, 2019, when Deji re-posted the diss track that had been thought to be deleted on YouTube. He released a serious video on the 25th of May, 2019, describing why he re-released his diss track to the public and discussing his experiences with psychical violence and suicidal thoughts as a result of the recent drama situation.
Sibling rivalry is on the rise.
On May 30, 2019, he released a follow-up video titled "he's gone too far," in which he criticizes his brother for attempting to find dirt on him for a response video and threatens his brother with legal action if JJ lies about him. He also chastises JJ for missing their mother's birthday.
Furthermore, on June 3, 2019, KSI released a video titled "Ending it All" in response to Deji. KSI refuted all of Deji's accusations against him, exposing Deji's deception and hypocrisy. He even apologized to him for making violent videos and sleeping with the girl he had a crush on. Deji lost subscribers as a result of the film, but KSI began to reclaim his lost subscribers. The next day, he posted a video titled "moving on," in which he confirmed that the beef was "done" and that he and his brother would keep things private.
Deji, on the other hand, released a video titled "I can't do this anymore" on June 18, 2019, in which he admitted to having mental health issues. Later, he has a nervous breakdown and begs people not to label him as a "bad guy."
Deji went live on Twitch the next day, telling his fans that he had actually decided to go to therapy with his brother and that he would take a break from the internet to concentrate on his mental health. After Deji expressed support for his brother in his rematch against Logan Paul in boxing, the feud appears to be over.
#TankSaving
Deji revealed on December 17, 2019, that his dog, Tank, will be put down after biting an elderly neighbor on July 23, 2018. Deji was fined, and his mother was ordered to compensate the victims. After the police confiscated Tank, the court ruled that she was unable to remove the dog from its leash. Tank "was very frightened by the attempts to muzzle him," she said, adding that while most dogs tolerate a muzzle, she noticed Tank "was very frightened by the attempts to muzzle him."
His mother had to pay £8,000 in compensation to the victim in addition to ordering the dog's euthanasia. He also sentenced her to a year of community service and 80 hours of unpaid labor. Deji was fined £2,500, and both were ordered to pay kennel fees and receive a four-year restraining order prohibiting them from contacting the victims. The Olatunji family had until Friday to appeal the decision to put their dog down.
What is his net worth?
Olatunji, a young and talented English YouTuber and Comedy Short Gamer, has made a decent living from his career. His net worth is estimated to be around $5 million.
Is Deji Olatunji dating anyone?
Deji Olatunji's relationship status is that he is in a relationship. He's reportedly dating a girl who goes by the Instagram handle @dounjax.
Marina Joyce was his girlfriend. She is well known for her YouTube channel raindrops, where she regularly uploads makeup tutorials and other beauty-related material. Similarly, he uploads a video called "Try Not To Laugh Challenge With My New Girlfriend," which quickly becomes one of his most famous.
Furthermore, little is known about his past relationships. Aside from that, he hasn't been involved in any major scandals throughout his career. He has succeeded in maintaining a positive public image.
Dimensions of the body
He has a wonderful personality. He stands 5 feet 8 inches tall and weighs about 77 kilograms. He has black hair and brown eyes, as well.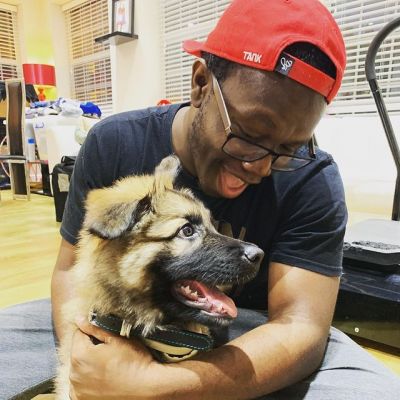 The Internet and Social Media
Deji is active on social media sites such as Instagram and Twitter, but she does not have a Facebook account. He has amassed a sizable fan base. Similarly, he has about 2.5 million Instagram followers and more than 2 million Twitter followers. Aside from that, he has 9.98 million YouTube subscribers. He already has 1.09 million subscribers on his second YouTube channel. He started using Twitter in March 2012, and as of March 2020, he had 259 Instagram messages.
Quick Facts
| | |
| --- | --- |
| Full Name: | Deji Olatunji |
| Born Date: | 09 Dec, 1996 |
| Age: | 24 years |
| Horoscope: | Sagittarius |
| Lucky Number: | 10 |
| Lucky Stone: | Turquoise |
| Lucky Color: | Orange |
| Best Match for Marriage: | Leo, Aquarius |
| Gender: | Male |
| Profession: | Youtuber, Comedy Shorts Gamer |
| Country: | England |
| Height: | 5 feet 8 inches (1.73m) |
| Marital Status: | in-relation |
| Dating | Marina Joyce |
| Net Worth | $5 million |
| Eye Color | Brown |
| Hair Color | Black |
| Nationality | British |
| Ethnicity | English |
| Father | Jide Olatunji |
| Mother | Yinka Olatunji |
| Twitter | Deji Olatunji Twitter |
| Youtube | Deji Olatunji Youtube |
| Instagram | Deji Olatunji Instagram |
| IMDB | Deji Olatunji IMDB |