Chrissy Chambers is an actress, singer, and model from the United States. Chrissy Chambers, together with her fiancée Bria Kam, is a YouTuber most known for being a member of the singing duo/couple "Bria and Chrissy."
Early Years
Chrissy Emily Chambers was born on October 5, 1990, and her full name is Chrissy Emily Chambers. She is from Clinton, Mississippi, and went to Atlanta in 2008 to pursue a career in acting. Her astrological sign is Libra, and she is 30 years old. She also has two younger sisters, Shelley and Kimberly.
Chrissy has also worked for Cartoon Network in addition to her YouTube career. She is a skilled stunt rider who has also received significant Civil War firearm training. As a result, she has been horseback riding for 19 years. She is also an outspoken supporter of LGBT rights and uses her films to advocate equality.
Career
Chrissy Chambers is a multifaceted individual. Chrissy has performed in films, on stage, in commercials, and on television, as well as singing. She may be featured in commercials for Proactiv Facewash and Flicks as the body wash girl (Cartoon Network). This summer, she filmed the feature film +1 (2013), directed by Dennis Iliadis (The Last House on the Left (2009), which marks her first significant feature film role.
Chrissy is presently collaborating with her girlfriend and musician Bria Kam on a musical/activist project. On August 1, 2012, she and her partner Bria began their YouTube account, BriaAndChrissy.The couple has been publishing incredible covers, music videos, and vlogs on this channel since then. '10 Worst Ways to Come Out,' '10 Things Lesbians Are Afraid Of,' 'BEST Super Bowl Commercial 2015,' and 'Never Let Go- Bria And Chrissy (ft. Kaelyn and Lucy)' are among the channel's most popular videos. Furthermore, these videos, which have racked up millions of views, contain intriguing topics about lesbian relationships.
Vlog videos on the channel, such as '11 Crazy YouTube Challenges,' 'Our Guilty Pleasures,' 'Best Birthday Surprise Reaction,' and 'Making A Royal Guard Smile,' are all worth seeing. On November 28, 2013, they launched their second channel, dubbed "Lesbian Love." It includes vlogs from the couple's daily lives.Lesbian and homosexual couples will find a lot of value in the videos on this channel, but heterosexual couples can also benefit from the YouTuber's relationship counseling. Chambers has also appeared in a number of advertisements for products such as Proactiv. She also appeared in the films "Plus One" and "The Last House on the Left."
Scandals & Controversies
Chrissy made headlines after becoming the first person in the United Kingdom to win a legal lawsuit seeking damages for her personal photos being posted without her permission. Her British ex-boyfriend also shared some intimate videos of them on the internet without her permission in 2011. It is illegal to post personal sexual data without the consent of the other partner, according to new UK rules (enacted in 2015).
However, because the law went into effect a few years after Chambers' films were posted, she was unable to sue her ex-partner right once. The YouTuber, on the other hand, pursued the lawsuit in 2016 and it was settled in 2017. In the end, she was also given the copyright to the videos.
Personal Experiences
Chambers and Bria Kam were engaged in January 2018 and married in April of the same year. They have a strong link between them. The couple is content and relishes their time together. They were named to GO Magazine's "100 Women We Love" list in 2014. They were dubbed "YouTube's most-viewed lesbian couple" by the publication.
Body Dimensions
Chrissy is a stunning and appealing woman. She is a tall woman, at 5 feet 7 inches tall. She also weighs roughly 55 kg on average. At this time, no additional information about her body measurements is available. She does, however, have a trim and attractive body. She also has dark brown hair and a lovely pair of brown eyes.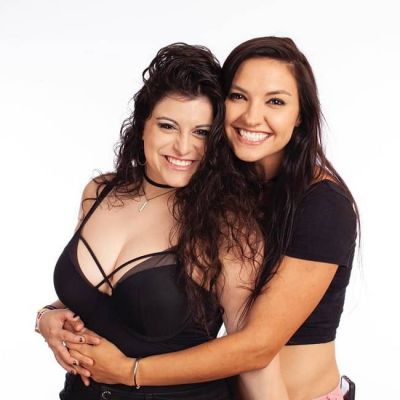 Net Worth and Social Media
Her Instagram account, @chrissychambers, has amassed a following of over 27.4K people. Her Twitter account currently has over 7K followers. BriaAndChrissy, a collaborative YouTube channel, has amassed over 867K subscribers. In addition, the 'Wonder Warriors' have over 189K subscribers. Their joint Instagram account, @briaandchrissy, has over 135K followers.
Chrissy Teigen is a well-known and rapidly rising social media sensation. With all of her hard work and talent, she has made a reputation for herself. She will almost certainly make a solid living from her work. She has not, however, revealed her net worth or other sources of income.
Quick Facts