Chloe Moriondo is a YouTuber and a young American adolescent singer-songwriter. She/her or they/them are preferred pronouns of Chloe Moriondo. She is well-known for both her cover songs and her own songs and albums.
Early Years
Chloe Moriondo is an 18-year-old actress who was born on September 29, 2002. She was born and raised in Detroit, Michigan, and presently resides there with her family. In terms of her family, Chloe is a gifted ukulele player with a guitar-playing sibling. In August 2017, she also shared a picture with her mum on her Instagram account.
Chloe is also an animal enthusiast who has many pets of various types. Rosie, a pet gecko, a snake called Taiji, a dog called Sammy, and a cat called Kitten are among her pets. In the future, she wants to acquire a rat. Apart from music, Chloe is also interested in painting. She is a cheerful and sociable person in general.
Professional Life and Career
Chloe Moriondo is a professional young singer-songwriter and YouTuber. Her YouTube channel, which has over 3 million users, is known for releasing musical videos. Cup Song Remix by ItsWayPastMyBedTime is the first video she uploaded to her YouTube page, which she uploaded in January 2014. Her YouTube videos have also received over 155 million views.
Chloe has also covered Radiohead's Creep. Thom Yorke is the author of this song. Chloe was raised in a music-loving household with a brother who plays the guitar, and she has always been interested in music. She sings and plays the ukulele, and her YouTube account has both original and cover music.Chloe, likewise, made her first YouTube video in early 2014 and has gone a long way since then. Her videos are mainly shot using an iPhone 6s and a Zoom H1 microphone. She then edits them in iMovie or the pirated version of Logic. Chloe ran a sound club called "Kidzwithbugz."
Chloe, on the other hand, has been active in activism. Chloe spoke with "The Ally Coalition" to discuss how they're working to build a supportive network for young LGBTQ+ persons. Chloe is also a Black Lives Matter advocate. She has been urging people to register to vote and educate themselves about the upcoming elections in the United States.
Chloe Moriondo began her YouTube career on January 22, 2014, with the release of her debut video, Cup Song Remix by "ItsWayPastMyBedTime." She sung the song while banging a cup for the background music in this video. Chloe's music is a mixture of indie pop and bedroom pop.The following video, released in August 2014, is a rendition of McFly's song Love is Easy. Chloe continued her trip by uploading an English rendition of Cristin Milioti's French song La Vie En Rose. She then released her first original song, Waves, in July 2017 and a rendition of Radiohead's Creep in December 2017. The video in question has received millions of views.
On the 6th of May 2018, Chloe uploaded a version of the French classic La Vie En Rose. As of May 2019, this song got about 10 million views. Then, on August 15, 2018, Chloe released a ten-part original series called "Rabbit Hearted" on her YouTube page. It's also her debut studio album, which came out on July 31, 2018. Spirit Orb is Chloe's debut major-label EP, which she released on April 24, 2020.
In September 2018, Chloe also announced her first two gigs, which took place on December 1, 2018 in Pontiac, Michigan, and December 7, 2018 in Chicago, Illinois. In February 2019, she and her partner, Johnny, shared a rendition of Dodie and Thomas Sanders' song "Dear Happy."Her original song, "Kalmia Kid," was published on April 9, 2019, and is one of her most recent videos. Chloe has eight gigs scheduled during the summer of that year, from July 26 to August 24.
 Relationship Status
Chloe Moriondo considers herself to be bisexual. Her current relationship status is unknown, though she was formerly linked to a man called Johnny. She has also had a low-key public persona free of controversies, rumors, and scandals.
Body Dimensions
Chloe Moriondo is roughly 5 feet 3 inches tall and weighs roughly 55 kg. When she initially began making videos on her YouTube site, she had long hair and a "girly" look. Then, in April of 2015, everything changed. Chloe drastically changed her image by cutting her hair short. She developed a "tomboyish" appearance and started wearing large-rimmed spectacles to go with it. Chloe, too, has lovely green eyes and naturally brown hair that she dyes in a variety of colors, including pink, purple, and blue.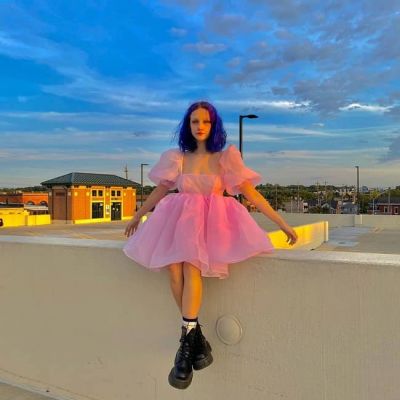 Net Worth and Social Media
Cloe Moriondo began Twitter in March 2017 and now has over 114.8K followers on her @kidzwithbugz account. On Instagram, she is known as @chloemoriondo. At the time of writing this biography, this account had 183 posts shared and over 633k followers.
Similarly, she started a Facebook page on September 27, 2018, and over 231k people have followed her journey thus far. On July 27, 2013, she started her own Youtube channel with the same name. As of September 2020, this channel has over 157.4 million views and 3.08 million subscribers. Moving ahead, Chloe is estimated to have a net worth of $702,000 USD as of September 2020.
Quick Facts