Blaire White is a well-known American political analyst and YouTuber. Blaire White is a transgender YouTube vlogger renowned for her own channel.
Early Years
Blaire White was born in Chico, California, on September 14, 1993. Her zodiac sign is Virgo, and she is 27 years old. She attended California State University and majored in computer science. Similarly, she appeared on a friend's live broadcast while in college. Then, as a result of the comments, she was urged to create her own YouTube channel. She also came out as transgender to her family and friends when she was 20 years old, and started feminizing hormone treatment in 2015.
Her parents' names and details are unavailable at this time. Similarly, nothing is known about her other relatives, such as her siblings, cousins, or grandparents. She is also a dog enthusiast, having acquired a puppy in May 2018.
Ascend to the Top
Blaire has made political arguments with other YouTubers, analysts, and comedians available on her channel. She's also featured on The Rubin Report, a political talk program, multiple times, where she discussed matters including the North Carolina Public Facilities Privacy and Security Act. Individuals are only allowed to use toilets and changing facilities that match to their birth certificates' sex.
Blaire has also been on Shane and Friends, Shane Dawson's video program. She is an outspoken victim of a man's date rape when she was 18. In addition, she discusses her tragic event in her Shane Dawson collaborative video.White was banned for 30 days from the social media website Facebook in February 2017. Her fans are voicing their displeasure. Her account was quickly restored after that. The prohibition was an oversight, according to Facebook. She began sharing films about her personal life, including her transitioning cosmetic surgery, in the same year.
She started her YouTube account on November 27, 2015, and on December 2, 2015, she uploaded her debut video, Female Privilege | Antifeminism. White and her partner also recorded a video in which they donned hats with the Trump slogan "Make America Great Again" and attended an anti-Trump rally on Hollywood Boulevard on November 11, 2017. In the video, she alleges she was attacked twice and had a drink thrown in her face.
Furthermore, police claim that White and her boyfriend started the fight by crossing a line between pro- and anti-Trump protestors. Because of the altercation, she has said that she will not wear a red hat in an American liberal region again.She also made her web series debut on The Rubin Report in September 2017. Blaire has also utilized social media to promote products such as Boohoo, Bellami Hair, Budweiser, and Fashion Nova.
Personal Experiences
When it comes to her sexual orientation, She has stated that she has suffered from gender dysphoria since she was a child. Joey Sarson, a fellow YouTuber, has been Blaire's boyfriend. She identifies as a center-right political believer who is non-religious, claiming that religion has had little impact on her life. White voted for Donald Trump in the 2016 presidential election, but she has expressed her dissatisfaction with several of his policies and actions since taking office.
In March 2018, White said that she will no longer be a vegan for "health reasons." Her right wrist, though, is still tattooed with a vegan sign. In June 2018, White confirmed her engagement to fellow YouTuber Joey Sarson. White expressed her wish to have biological children. In November 2018, she will also stop taking estrogen.
Body Dimensions
Blaire is around 5 feet 5 inches tall. Her weight is around 65 kg. Her body is also 34 inches in circumference. Her eyes are a rich brown tone. Furthermore, her hair is brown in tone. Her physique is in good shape, but she hasn't revealed her measurements to the public.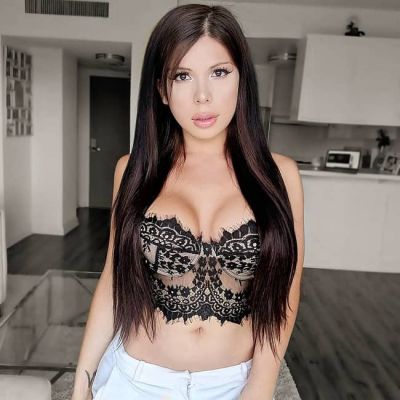 Net Worth and Social Media
Her YouTube channel, which she created herself, has 996K followers. Her Instagram account has 347K followers. Similarly, she has 327.8K Twitter followers. She also has 55K Facebook fans. In addition, she has 50.1K TikTok followers. Her net worth is estimated to be in the $300,000 range.
Quick Facts