Andrew Santino is a stand-up comedian, actor, and producer from the United States. Andrew Santino can be found on many social media platforms such as Instagram, Twitter, and YouTube. He also appeared in a number of films and television shows, including "The Disaster Artist," "Sins City Saints," and "Mixology."
 Early Life
Andrew Santino was born on October 16, 1983, in Chicago, Illinois, United States. His zodiac sign is Libra, and he is 37 years old. Andrew hasn't revealed anything about his parents or other family members.
There is also no information regarding his childhood or education. Despite this, he grew up and went to Arizona State University. Furthermore, he is an American by nationality, but his ethnic background has yet to be revealed.
Professional Life
Andrew is a stand-up comedian, actor, and producer. He began his career by creating and starring in the final season of MTV's Punk'd. He is also well-known for his roles in television shows and films such as Sin City Saints, The Disaster Artist (2017), Mixology (2013), and I'm Dying Up Here (2017). Andrew also appears in the 2016 film This Is Us.
Andrew has been selected one of Comedy Central's Top Ten Comics to Watch. Later, he scored a role in the pilot episode of How I Met Your Dad. He went on to work on the ABC show Mixology. He also aired a Showtime special called Home-field Advantage. Andrew also appeared as a recurrent character in the NBC drama This Is Us, as a producer for the fictional sitcom The Manny.
Other films and television shows in which Andrew has appeared include Henry Poole Is Here, Sin City Saints, and Trilogy. He has also appeared in Arrested Development on Netflix, The Office on NBC, Family Tree on HBO, and Children's Hospital on Adult Swim. In addition, on June 2, Andrew performed his debut comedy special. Andrew Santino: Home Field Advantage was the title of the Showtime documentary.
Andrew Santino currently creates and hosts a podcast called Whiskey Ginger. He interviews his acquaintances in the entertainment sector in it. During this podcast, they consume whiskey and reflect about their past. Similarly, in the year 2020, Andrew and Bobby Lee began co-hosting the Bad Friends podcast.Andrew worked as a field producer for one episode of Who Gets the Last Laugh in 2012, as well as one section of MTV's Punk'd. Andrew was an executive producer as well as a star in Here's the Rub. Because these positions were more behind the scenes, people would not necessarily be aware of this knowledge unless they took the time to explore.
Andrew's personalities
Andrew has been in a number of films and television shows. Bruce, the main character of Mixology, is one of them. Bruce is a quick-witted man who is one of Tom's closest pals. Blake Lee portrays the character Tom. Bruce weighed 18 pounds and 9 ounces when he was born, and he has two elder brothers, Kyle and Doug. Bruce was not as athletic or popular as his siblings.
Andrew also portrayed Scott Holmes in the film The Disaster Artist. Andrew's character is played by the same actor that plays Mike in The Room. Andrew played Jake Tullus in Sin City Saints and also appeared in Adam Devine's House Party.
Net Worth and Awards
There is no record of Andrew Santino receiving any accolades. He is, nonetheless, named one of Comedy Central's Top 10 Comics to Watch. His net worth is reported to be between $1 million and $5 million. He makes money from his podcast, TV series, and other endeavors.
Relationship Status
Andrew hasn't said much about his romantic life. He could be single, or he could be keeping his personal life quiet. There were also whispers that he was gay. But Andrew hasn't said anything to dispel the accusations, allowing people to speculate about him and his sexuality even more. Nonetheless, with his sense of humour and beautiful nature, he is bound to attract lovers.
In addition, Andrew Santino's nickname is Cheeto. He did not receive the name because he enjoys the snack food. Instead, it was when a friend commented on how bad his legs looked. When Andrew was sporting a pair of basketball shorts, his friend commented on his legs, which also had red hair like his head and face. The pal went on to say that Andrew "looked like a person who just ate Cheetos and wiped the dust off his legs." This is how he earned the moniker "Cheeto." His Twitter handle is even titled after his moniker!
Furthermore, as a Chicago native, Andrew adores and misses Italian cuisine. In Los Angeles, California, he tries to find a good place to eat delicious Italian beef. Nonetheless, Andrew has no qualms about going to Orange County to get the Italian dish just the way he wants it.
Body Dimensions
In terms of Andrew's body measurements, he is 6'1″ tall, although his actual weight is unclear. Furthermore, his other physical measurement parameters, such as dress size, shoe size, chest-waist-hip, biceps, and so on, are unknown. Despite this, he has light brown eyes and is a ginger, which means his natural hair color is auburn. He also keeps a short beard, which adds to his attractiveness.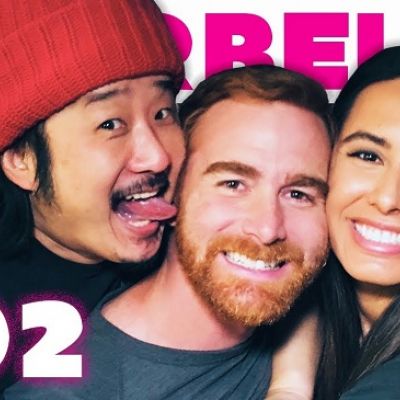 Social Media
Andrew Santino can be seen on a variety of media channels. He joined Twitter in February 2009, and he now has 90.6k followers on his verified account. Similarly, he joined the YouTube community on September 8, 2006, and his self-titled channel currently has 103k followers and over 7.8 million video views.
Andrew is also on Instagram, where he has 308.8k followers and 663 posts. His Instagram account is also verified, with a blue check mark next to his name. He also has a Whiskey Ginger Podcast Facebook page. However, this account has 1.2k followers, which is relatively low.
Quick Facts