Adam Schlesinger was a singer-songwriter from the United States. Adam Schlesinger was also a record producer, guitarist, bassist, keyboardist, and drummer, as well as a multi-instrumentalist. COVID-19, the global pandemic caused by the SARS-CoV-2 coronavirus, was his final fight.
COVID-19 causes death
Adam Schlesinger died of COVID-19 complications on April 1, 2020, at a hospital in Poughkeepsie, New York, during a coronavirus pandemic in the state. Adam died when he was just 52 years old. Prior to his death, he had been hospitalized and put on a ventilator for more than a week.
According to "Variety," Adam Schlesinger died on Wednesday morning. Adam's family said the day before that he was battling the coronavirus that is causing the global COVID-19 pandemic in a hospital in New York.
Chris Carrabba, a member of Dashboard Confessional, announced Adam Schlesinger's death in a tweet. Chris wrote on Twitter:
"I knew him best as a friend and a mentor. This is something we must take seriously. People are ill, and they are dying. It's difficult to stay inside, so lives will be saved. Take good care of one another. My dear friend, may you rest in peace."
"RIP Adam Schlesinger," acclaimed songwriter Diane Warren said. To his family, my heartfelt condolences. "Thank you for the music." Nicole Atkins, a singer-songwriter, also paid tribute to the late songwriter, saying:
"I'm devastated to learn of Adam Schlesinger's death. He was one of the first people with whom I co-wrote an album, and we used to tour with Fountains of Wayne. He was incredibly talented and sweet. My thoughts and prayers are with his family and bandmates."
Childhood and early life
Adam Schlesinger was born on October 31, 1967, and died on April 1, 2020, at the age of 52, from complications related to the COVID-19 pandemic. Barbara "Bobbi" (Bernthal), a former public relations executive, and Stephen Schlesinger are his parents.
Laurie Rose is Adam's sister, and Jon Bernthal is Adam's cousin. Jon is known for his roles as Shane Walsh on "The Walking Dead" and The Punisher/Frank Castle in "Daredevil and The Punisher" on Netflix. Similarly, Murray Bernthal, who lived from 1911 to 2010, is Adam's grandfather. Murray was a musician and producer who lived in Syracuse, New York for a long time.
Adam Schlesinger was born in Manhattan and raised in Montclair, New Jersey, where he attended Montclair High School. He then went on to Williams College, where he majored in philosophy and earned a Bachelor of Arts degree.
Workplace Environment
Adam Schlesinger worked as a singer-songwriter, record producer, guitarist, bassist, keyboardist, and drummer throughout his professional life. Adam also received three Emmys, a Grammy, and an ASCAP Pop Music Award. He was also nominated for an Academy Award, a Tony Award, and a Golden Globe Award.
Adam was also a founding member of bands such as "Fountains of Wayne," "Ivy," and "Tinted Windows." For the Brooklyn-based synth-pop duo "Fever High," he was also a main songwriting contributor and producer.
The movie
In addition, Adam Schlesinger composed Master of the Seas for the Academy Award-nominated film Ice Age: Continental Drift. This song was performed by Jennifer Lopez, Peter Dinklage, and a number of other artists. He also composed and co-produced the song That Thing You Dotitle !'s track.
Adam also contributed three songs to Music and Lyrics, which he composed and recorded. Adam's music has also been heard in films such as Shallow Hal, Robots, There's Something About Mary, Me, Myself & Irene, Josie & the Pussycats, Scary Movie, Art School Confidential, Fever Pitch, The Manchurian Candidate, Because of Winn-Dixie, Orange County, and Two Weeks Notice.
The songs for Cry-Baby were co-written by Adam Schlesinger and David Javerbaum, executive producer of The Daily Show. It's a musical theater version of the same-named John Waters film. The La Jolla Playhouse in La Jolla, California, hosted the premiere of this adaptation. It happened in November of 2007. The Marquis Theatre began previews for the Broadway run on March 15, 2008, and the show officially opened on April 24, 2008.
Furthermore, for the latter's play An Act of God, Adam Schlesinger and Javerbaum co-wrote the closing song I Have Faith in You. On May 28, 2015, this play premiered on Broadway. This song was performed by Jim Parsons, Chris Fitzgerald, and Tim Kazurinsky.
In addition, he worked on a musical with Sarah Silverman called The Bedwetter. It is based on the same-named book by the latter. They've also scheduled previews for the musical to begin on May 9, 2020. It was held at the Linda Gross Theater at the Atlantic, and the opening night was set for Wednesday, June 10, 2020.
TV Career
In television, Adam Schlesinger and Javerbaum worked on the Tony Awards' opening number in 2011. It was It's No Longer All for Gays. They also collaborated on the 2012 Tony Awards' opening and closing numbers, What If Life Were More Like Theater and If I Had Time, respectively. Many of the songs that Adam and Javerbaum co-wrote were written by Neil Patrick Harris.
TV Is a Vast Wonderland was also written by the pair. Jane Lynch performed this song as the opening number at the 2011 Emmy Awards. Similarly, the two collaborated on The Number in the Middle of the Show, which was performed at the 2013 Emmy Awards by Neil Patrick Harris, Sarah Silverman, and Nathan Fillion.
I Love You, America, The Maya Rudolph Show, A Colbert Christmas: The Greatest Gift of All!, T.U.F.F. Puppy, Good Luck Charlie, The Fresh Beat Band, Kathy, Crank Yankers, Wedding Band, Bubble Guppies, and Sesame Street are among his TV composing credits.
Adam has also written songs and theme music for shows such as Comedy Central's Night of Too Many Stars, Saturday Night Live's Robert Smigel cartoons, American Dreams, The In-Laws, The Man Show, Too Late with Adam Carolla, The Dana Carvey Show, John Leguizamo's House Of Buggin', My Kind of Town, and others.
Adam also contributed to the music of shows such as Big Time Rush, The Howard Stern Show, and Stephen King's Kingdom Hospital, to name a few. Adam Schlesinger has wrote music for the Tony Awards in 2011 and 2012, the Emmy Awards in 2011 and 2013, the Billboard Music Awards, and the Comedy Awards.
Scrubs, The Hills, Gossip Girl, Melrose Place, Felicity, Roswell, and others are among the TV shows on which he has worked. He also served as the executive music producer for The CW's scripted sitcom Crazy Ex-Girlfriend, for which he wrote songs.
Such initiatives
Adam Schlesinger worked as a record producer and mixer for a wide range of artists, including The Monkees, Fever High, Dashboard Confessional, Swirl 360, Tahiti 80, Motion City Soundtrack, Verve Pipe, Robert Plant, America, The Sounds, They Could Be Giants, Fastball, and many more. He also works on five "Fountains of Wayne" albums and six "Ivy" albums as a producer or co-producer.
In addition, Adam Schlesinger was a member of the side project band "Tinted Windows," which was founded by guitarist James Iha, Taylor Hanson, and Bun E. Carlos, and with whom he recorded and toured in 2009 and 2010. Iha's second solo album, Look to the Sky, was released in 2012, and Adam contributed to it. He also served as the film's primary composer and director. This is a synth-pop duo based in Brooklyn.
Nominations and Awards
Adam Schlesinger has been nominated for a number of awards and has won a number of them. He was nominated for an Oscar, a Golden Globe, Tonys, Grammys, and Emmys, to name a few. Antidepressants Are So Not a Big Deal won Adam an Emmy in 2019 for outstanding original music and lyrics. It's from Crazy Ex-Girlfriend, a TV musical drama.
Adam has since earned three Emmy nominations. In 2009, he was awarded a Grammy for his contribution to A Colbert Christmas: The Greatest Gift of All! Similarly, Adam was nominated for an Academy Award in 1997 for composing the title song for That Thing You Do!, a musical comedy film directed by Tom Hanks.
Estimated Net Worth
Adam Schlesinger is estimated to have a net worth of around $2 million. Before he died, he made the majority of his money from his job. This amount also includes his earnings from music composition, songwriting, and singing for films, television, and theaters throughout the course of his career.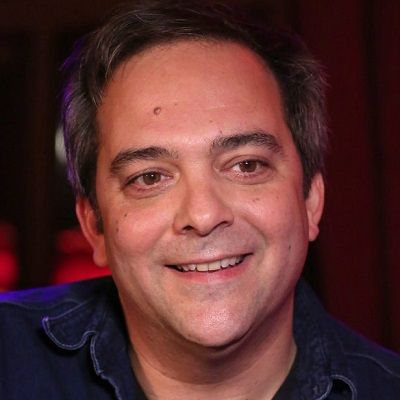 Status of the Relationship
On January 30, 1999, Adam Schlesinger married Katherine Michel. Katherine is a Yale alum and a graphic designer. In 1996, the lovers met at WXOU Radio Bar. It's a bar where Adam Schlesinger and Chris Collingwood, co-founder of "Fountains of Wayne," used to hang out when they first started the band.
Unfortunately, after their divorce was finalized in 2013, the lovers went their separate ways. Together, they have two children. Sadie and Claire are the names of the two young ladies. His parents, two brothers, a niece, and her partner, Alexis Morley, also survive him.
Quick Facts
| | |
| --- | --- |
| Full Name: | Adam Schlesinger |
| Born Date: | 31 Oct, 1967 |
| Age: | 53 years |
| Horoscope: | Scorpio |
| Lucky Number: | 10 |
| Lucky Stone: | Garnet |
| Lucky Color: | Purple |
| Best Match for Marriage: | Capricorn, Cancer, Pisces |
| Death Date: | April 1, 2020 |
| Gender: | Female |
| Profession: | Singer-songwriter, Record Producer, Guitarist, Bassist, Keyboardist, Drummer. |
| Country: | USA |
| Marital Status: | single |
| Divorce | Katherine Michel |
| Net Worth | $2 million |
| Eye Color | Brown |
| Hair Color | Brown |
| Birth Place | New York City |
| Nationality | American |
| Religion | Christianity |
| Education | Williams College (Philosophy) |
| Father | Stephen Schlesinger |
| Mother | Barbara "Bobbi" (Bernthal) |
| Siblings | One (sister Laurie Rose) |
| Kids | Two (daughters Sadie and Claire) |
| IMDB | Adam Schlesinger IMDB |
| Wiki | Adam Schlesinger Wiki |